Halsey Has a New Tattoo on Her Shaved Head
The emoji-inspired tattoo isn't her only new one, either.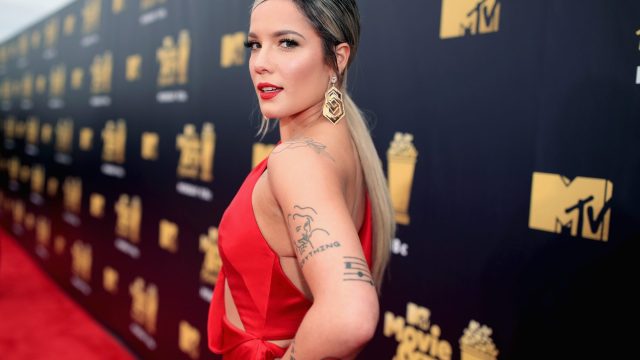 Halsey just got a skull tattoo. So, if you had any lingering doubts about it, she's really, truly badass. The singer debuted her cranial art on her Instagram Stories on October 25th, showing off an asteroid design on a portion of her newly shaved head.
"finally did it," Halsey wrote, followed by a series of star emoji that her tattoo was maybe, possibly modeled after.
That same weekend, Halsey also got a tattoo of an illustration by Bjenny Montero, a cult-favorite comic book artist. (In the design, a tiny, pensive bird thinks: I wonder if they'll remember me. Which seems like an appropriately existential meditation on fame.) Both tattoos were done by Noah Lee, the Los Angeles-based artist whose handiwork also graces Halsey's face. Yeah, she also has a face tattoo. Because, again, she's badass.
Halsey's new tattoos were captured by a fan account after they expired from her Instagram Stories.
The skull and forearm tattoos are Tattoos #38 and 39 in Halsey's ink collection (according to Cosmopolitan's count), joining a family of similarly playful, inventive, daring, meaningful, and/or likely painful designs. Like: A pair of Band-Aids on her kneecap; an artistic interpretation of Marilyn Manson's face on her ribs; the word "Hopeless" on her butt. Most recently, she had her hand inked in honor of her late friend Juice WRLD, who died of an accidental overdose in December. She and the rapper collaborated on the single "Life's A Mess," which appeared on Juice WRLD's posthumously released album Legends Never Die.
Halsey hasn't revealed the inspiration behind either of her new tattoos (and she never has to!). But as should be abundantly clear by now, we are very supportive of this body art.