Halsey just achieved something on the charts that no other woman has done so far this year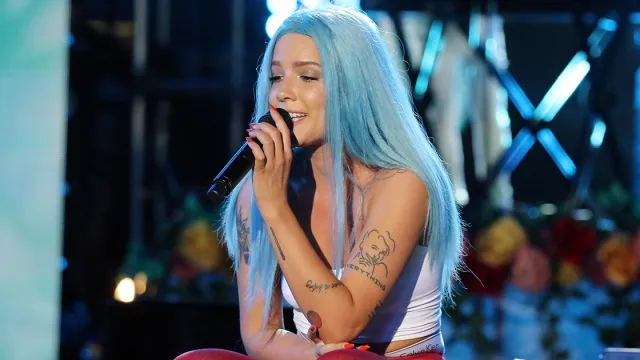 Marking a break from men sitting atop the charts, Halsey's second album just hit number one on the Billboard 200, making her the first woman to hold a number one album in 2017 so far.
Halsey, of course, released her second album hopeless fountain kingdom two weeks ago. The collection, which features the single "Now Or Never," includes a duet with Fifth Harmony's Lauren Jauregui. The track is a same-sex love song titled "Strangers," in which the two bisexual singers weave a tale of love, desire, and heartbreak. Amazing stuff, we think you'll agree.
https://www.youtube.com/watch?v=e3hjpNuvapQ?feature=oembed
However, Halsey's new album is also notable because it marks the first female solo album to hit number one on the Billboard 200 album chart in seven (!) months.
According to Billboard, the album has combined sales and streams of 106,000 equivalent album units, 76,000 of which are traditional album sales.
The singer — who has experienced a surge in popularity since her blockbuster smash with the Chainsmokers, "Closer" — is the first woman to land at the summit of the album chart since Lady Gaga released her fifth album Joanne in October of last year.
Indeed, Billboard notes that in the past 12 months, only four women have had number one albums,  including Halsey, Lady Gaga, Solange Knowles, and Barbara Streisand. In comparison, men have had 16 number one albums, while groups have had 10 (however, only one of those groups, Pentatonix, had a female member).
https://www.instagram.com/p/BVNu_U7DgPa
This sort of inequality is something that Halsey herself has spoken about in the past. Speaking to CBS News, the singer — whose real name is Ashley Frangipane — expressed how female artists are often pigeonholed.
"Female artists can put out the same style of a record as a male artist and when a male artist does it, it has a certain type of dignity, it has a certain type of edge… as soon as a woman puts out a record of the same caliber, it's immediately filed as a pop record no matter what," she said.
Now, while there's nothing wrong with pop records (pop music is joyous after all), what Halsey says does hold meaning. Women and their contributions to the music industry are often discussed as being lesser or more manufactured than their male counterparts, even if this isn't the case.
One thing is certain, however, and that is the string of male-lead number one albums could be about to change. Katy Perry's latest record, Witness, is expected to hit the top spot any day now, and Lorde's new album, Melodrama, is already number one on the iTunes chart despite only being released today (June 16th).
Regardless, we couldn't be happier for Halsey, and we're sending her all our congratulations. Remember, in the immortal words of Beyoncé: Who run the world? Girls.