This Halloween eyeliner trend is everything we've ever needed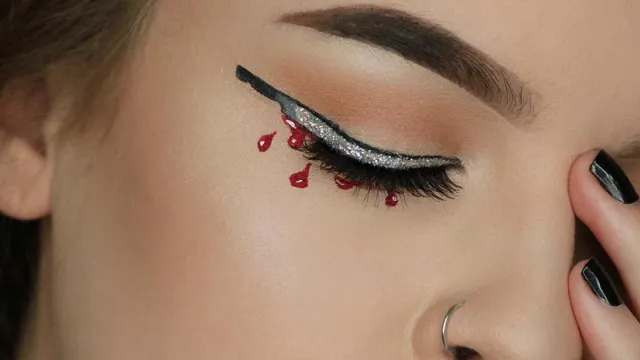 It can feel like there's a new makeup and eyeliner trend almost every other day (that's because there probably is). The fact that people can now share their tips, tricks, or just how they're experimenting with makeup on Instagram and social media means that our eyes now come across things that we might never have actually gotten see. With that in mind, we now get to see SO much Halloween themed makeup tutorials and beauty inspo that it can be overwhelming.
However, we've just seen this latest scary eyeliner trend and it's literally everything we've ever needed.
Called "knifeliner" (we know), this trend is kinda gory and we LOVE IT. While it sound like it's a trend of people putting on eyeliner with knives (hence the gore), it's actually a lot less sinister than that.
Rather, people are painting tiny silver blades where they'd normally put their eyeliner and adding black handles in a sort off flick. Then, to top everything off, they're adding spots of blood down their cheeks, or going all out with loads of fake blood down their face.
https://www.instagram.com/p/BLI8HDWD7Rw
OMG WE LIVE. If you're a fan of slasher movies, then this is the PERFECT look for you this halloween.
https://www.instagram.com/p/BKZ4kq7Bv1U
https://www.instagram.com/p/BKgVwYKD5eL
https://www.instagram.com/p/BK4M5yFgy0-
https://www.instagram.com/p/BK4M5yFgy0-
OBSESSED.
If you were wondering how to re-create the look, luckily one beauty vlogger, OMG Lilly, has already done a tutorial on YouTube that we're *totally* going to try.
https://www.youtube.com/watch?v=p4dUIPawRuA?feature=oembed
We're not gonna lie, this is so creative and also kinda freaky, and we totally love it.
https://www.instagram.com/p/BKZOTjRBA1Q
[H/T Cosmopolitan]