27 Halloween Eye Makeup Ideas That Are the Cherry On Top of Any Costume
Whether you're a makeup novice or advanced, there's a look you can do.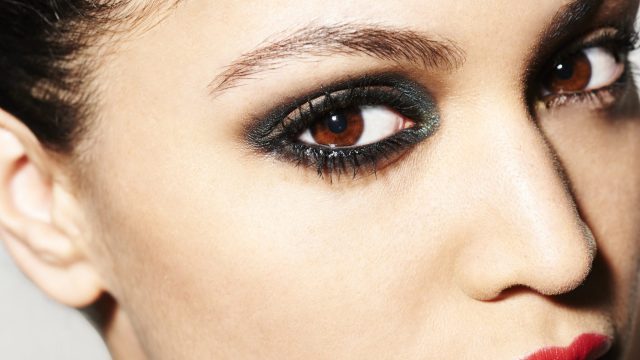 If you're someone who likes to break out their fall-scented candles and cozy sweaters the second after Labor Day, chances are you're already planning this year's Halloween costume and makeup look. We love this spooky holiday as it's the best time to experiment with creative eye makeup that takes your costume to the next level. Plus, it's perfect for those who wait until the last minute to put an outfit together.
Here, we gathered 27 Halloween eye makeup ideas that you'll want to DIY this season. From easy cobweb shapes to intricate landscape designs, there's something for everyone and every costume.
1. Tiny cobwebs
There are lots of ways to do cobweb eyes, and it's one of our favorite options as it's beginner-friendly. All you need is a thin black eyeliner pencil and a single eyeshadow color to apply all over the lid without worrying about straight lines.
2. Graveyard lids
If you consider your makeup skills to be intermediate or advanced, you must try these graveyard eyes. They're hauntingly beautiful and a fun way to get in the spirit.
3. Dripping blood
If you believe Halloween is all about blood and gore, you'll love these bloody eyes. The technique for this all about creating droplets in the shape of ovals to mimic the look of dripping blood.
4. Bat-signal
No costume is necessary with this take on smokey eyes.
4. Feline friends
With a steady approach, you want to use a very fine-tipped liner and slowly outline the shapes of black Halloween cats, beginning at the top of your lids and extending towards your eyebrows. Or, you can opt for eyeliner stencils, too.
5. Flirt and flutter
Halloween eye makeup doesn't always have to be ghoulish. This butterfly look is more sweet than scary with its yellow, orange, and red shades and black eyeliner-drawn wings.
6. Sharp as knives
This knife eyeliner makeup idea is perfect for those who love winged eyeliner and gory Halloween makeup. To recreate, begin with a white eyeliner and then layer a black line on top of it, finishing with red on the waterline to make droplets.
7. Pumpkin spice
Nothing says "going out on Halloween" more than orange glitter eyeshadow and bold lashes. Plus, it's super versatile and can go with so many outfits.
8. In case you're feeling wild
Leopard print is timeless, so accessorize your eyes with this print on Halloween. Just draw an oval with eyeliner and fill it in with gold shadow, you can definitely do this look.
9. Trick-or-treaters
This makeup look is impressively intricate. There are three trick-or-treaters (a devil, princess, and witch) drawn against a purple and blue sky with white stars and a yellow moon. Expect to spend a lot of time on the evening of October 31st with your eyes closed if you opt for this design, as people will want to look closely at your eyes all night long and you'll want to get any pics for the 'gram.
10. Pink and purple bats
The eyebrows are the star of the show in this look inspired by a scary, windy night. When paired with the night sky and creepy crawler drawings, this look is nothing short of a spooky masterpiece.
11. Wild stripes
Black and white stripes will turn any black outfit into a full-on zebra costume. To create this look, start with white eyeliner to make the cut crease shape, fill it in, and top it off with thin black stripes.
12. Eyes in the sky
If you're dressing up as a leprechaun or simply want an excuse to play with colorful makeup, this rainbow eye look will turn heads wherever you go.
13. Creepy crawlers
Between the illusion of spooky shadows and creepy spider legs, this scar/trippy look is perfect for Halloween.
14. Glam cobwebs
Skip the scary part of Halloween and make your eye makeup glamorous and on-theme with this cobweb cut crease.
15. Boogeyman
For those who have time, patience, and steady hands, try recreating this crazy-cool look. The pop of green is both eerie and stunning.
16. Brainiac
This look isn't for the faint of heart. We can't look away, which means others won't be able to either.
17. Double double, toil and trouble
These cauldron eyes will certainly bubble. If you prefer a more wearable approach, draw a tiny cauldron at the outer edge of your eye to get in the spirit without sacrificing your eye makeup glam.
18. Jack O'Lantern
Pay homage to the time-old tradition of carving pumpkins with this timeless eyeliner.
19. Twin pumpkins
This eye makeup look is the definition of pumpkin spice and everything nice. From afar, you can't even tell the orange shadow makes pumpkins, which makes this look super versatile for any Halloween party.
20. Flaming hot
Whether you're recreating the fire emoji or want to bring the heat this Halloween, this makeup look doesn't disappoint.
21. Evil eyes
Opt for a cut crease makeup look made of eyes. It's pretty simple to create as it consists of making a series of circles, starting with a larger white circle, a smaller colored circle inside, and a black dot in the middle. Easy!
22. Cruella De'Vil
Channel you're favorite Disney villain with this spotted look. It's so good, even Cruella would be proud. 
23. Stormy night
It doesn't get more impressive than this artistic look. It'll require the help of a professional or an advanced makeup user, but the results are so worth it.
24. Ghost and ghouls
For minimalist makeup lovers, this simple black eyeliner with the addition of white Halloween characters is cute, edgy, and festive.
25. Beetlejuice, Beetlejuice, Beetlejuice!
Step up your Beetlejuice costume to make a whole lewk by committing to a glam eye makeup moment. Glitter brows are a must, too.
26. The friendly ghost
These upside down ghost tears are beyond cute and easy to recreate? We give it a 10/10 for creativity and talent.
27. A hell of a look
Adding devil horns to your sparkling red makeup is an easy way to make your eyes look apropos for Halloween.