9 Halloween engagement rings that are simply "boo-tiful"
'Tis the time of year for wacky costume parties, trick-or-treating, marathon watching your favorite horror films and, oh yeah — getting married. It sounds like the oddball event of the lot, but October is actually an extremely popular wedding month (the weather tho), so we've rounded up some Halloween-themed engagement rings for any spectacularly spooky couples who actually prefer it if their wedding guests show up wearing their favorite Hocus Pocus costume for adults (we call dibs on the Winifred Sanderson look, btw).
Halloween lovers exchanging vows during this delightfully wicked month probably aren't interested in a traditional engagement ring design. And with all the ghoulish-meets-glam jewelry designs available, they shouldn't have a hard time finding a perfect bauble to suit their dark, magical tastes.
From skull-laden rings to mysterious jewelry designs that bear powerful stones with the ability to guide and protect the wearer, the options are endless.
Check out these Halloween engagement rings that are simply "boo-tiful."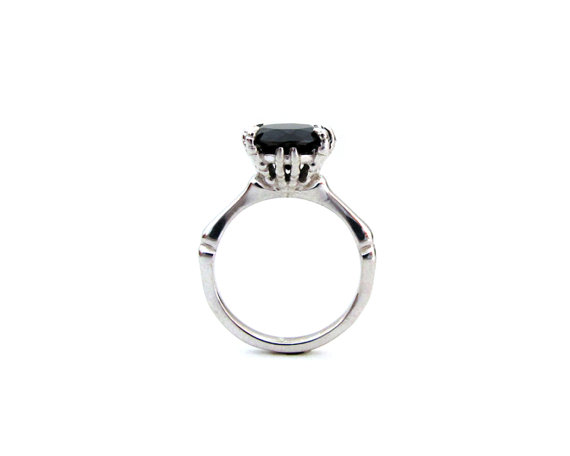 This goth engagement ring from Rickson Jewellry's Etsy shop is absolutely perfect for lovers who want to unite in Halloween-ish matrimony. It features a black diamond propped up by two skeleton hands that form a secure claw setting. The ring comes in sterling silver with a black diamond or cubic zirconia.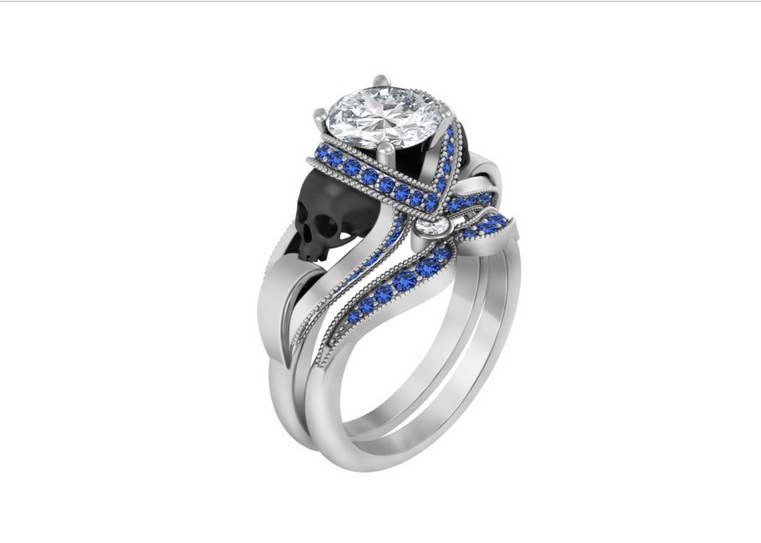 If skulls and diamonds are your girl's best friend, she'll be more than delighted to wear this 14K white gold and diamond engagement ring with blue sapphire and black skull accents.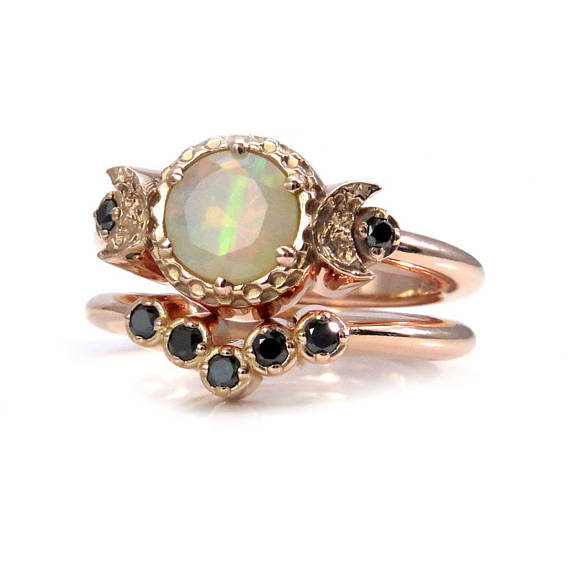 We can practically feel the lunar energy emanating from this opal moon phase ring set from Etsy shop SwankMetalsmithing. The engagement ring features a faceted Ethiopian Opal flanked by two opposing crescent moons each set with black diamonds. The wedding ring is chevron-shaped and features five diamonds that are available in black or white.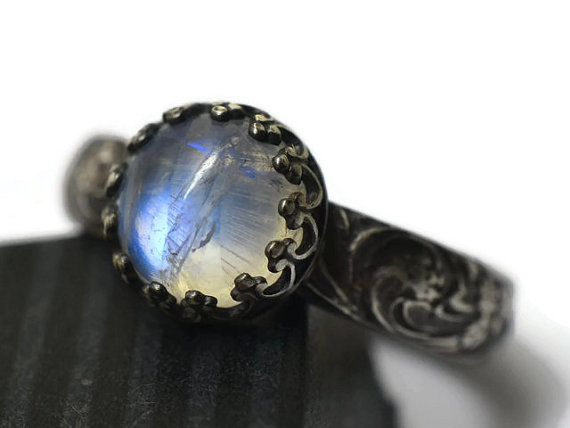 The look of this blue moonstone ring is simply mesmerizing. The translucent gemstone is accentuated by a sterling silver band that can be engraved with a customized message.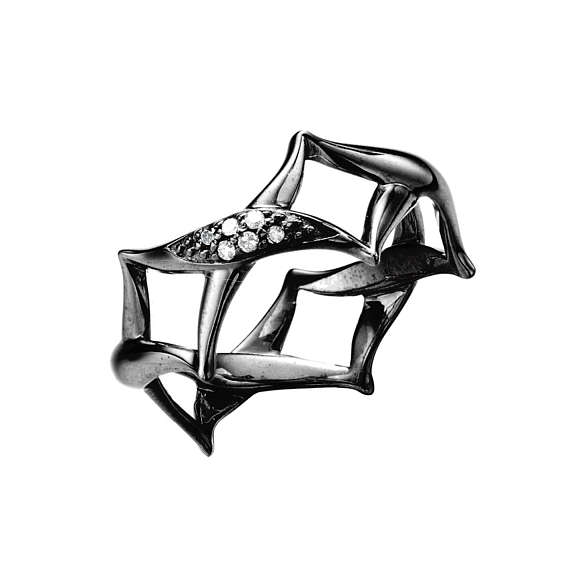 This ring was made with Neo-Pagans in mind. Crafted from diamonds and sterling silver, this unique design was inspired by hand-holding lovers. Each purchase comes with a polish cloth and a laser-engraved wood box.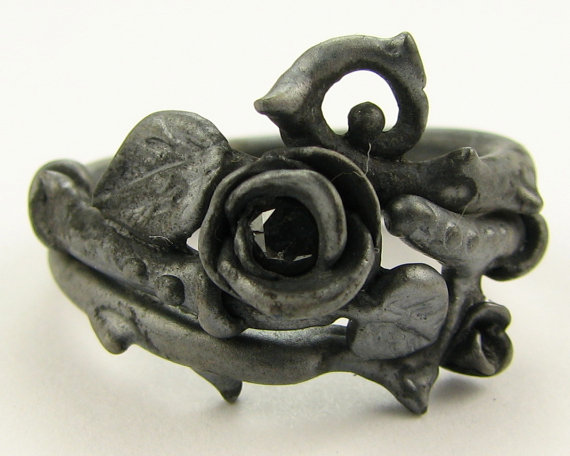 The central rose in this sterling silver ring set houses a single black diamond in its petals, which are surrounded by leaves, vines and thorns; the wedding band features a tiny rosebud. The rings can be finished in either blackened silver (shown above), white, black, or antiqued silver at no additional cost.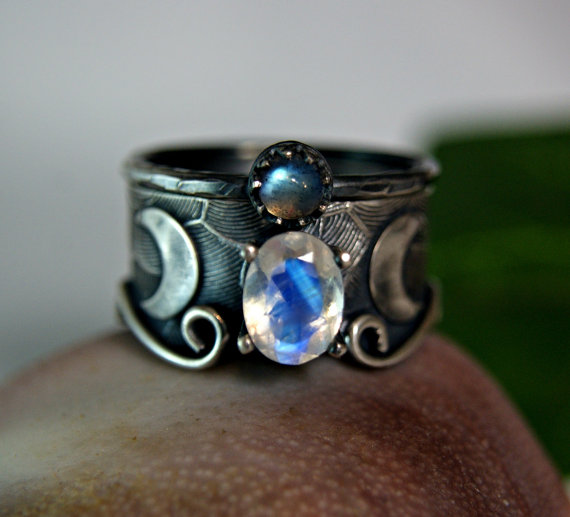 Witchy lovers will be completely enthralled by this handmade rainbow moonstone wedding set. The ring features a solid sterling silver setting that gorgeously accentuates a natural faceted oval Moonstone mixed with Labradorite.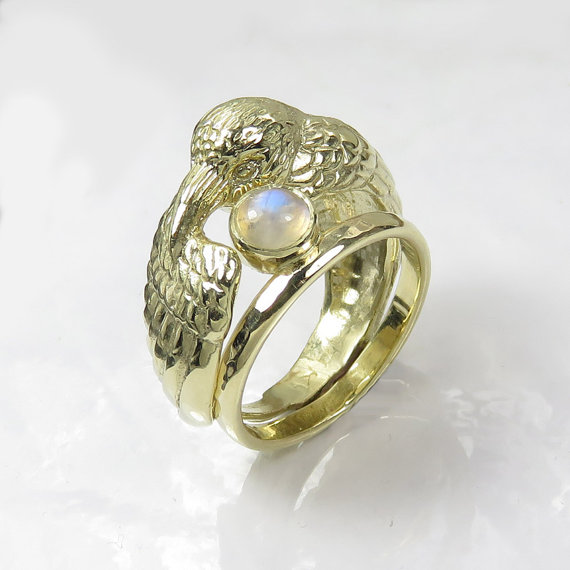 A perching raven is synonymous with Halloween, but it couldn't look less ominous as a part of this eye-catching 14K gold engagement ring set. The wax-carved raven ring is designed to wrap around the finger. The accompanying ring comes with a moonstone but can be designed with any stone the buyer chooses.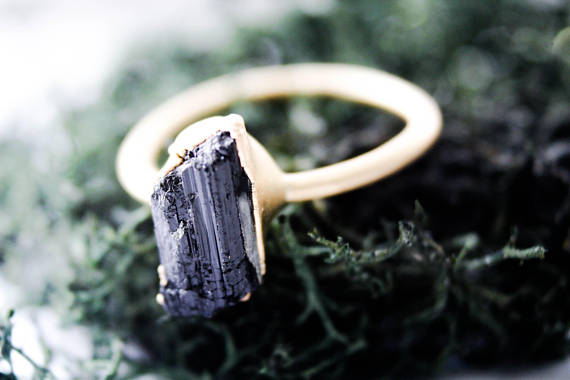 This ring's precious stone is good to bring into your life if you need help staying grounded and free from negativity and stress, which makes it the perfect piece of engagement jewelry. Engagements tend to be super exciting yet often unnerving occasions, but this black tourmaline ring will definitely help your betrothed to keep both feet planted on terra firma.