11 Halloween crowns for every girl who just CAN'T EVEN with a full-on DIY costume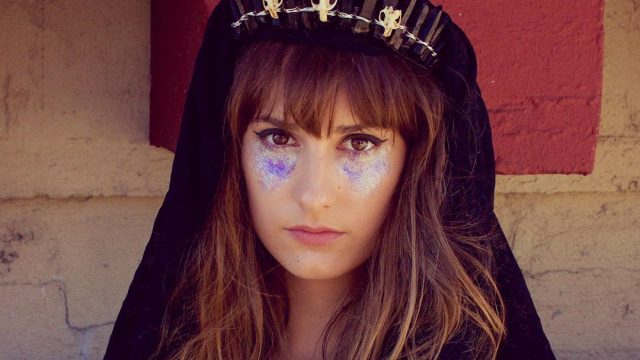 Hey girl, feeling a little lazy this Halloween? Yeah, us too. Lucky for all of us, we have the perfect costume idea on deck: Halloween crowns! We're obsessed with them because they're so pretty, and with just a few articles of clothing you already own, they make an amazing costume.
What makes Halloween crowns so great is that they're easy to make (or just buy, if we're being honest), so you won't drive yourself crazy trying to sew your own Wonder Woman outfit for the fourth year in a row. Plus, everyone from Rosie Huntington-Whiteley to Emily VanCamp has sported the "crown + regular clothes = costume" combo in recent years — so you know you're in good company.
Ready to discover the low-key — but still super amazing — Halloween crown costume of your dreams? Read on!
Do you love traditional Halloween costumes but want to switch up your usual "dead bride" ensemble this year? Why not pair this creepy, crawly DIY spiderweb crown with a an all-black outfit (and a spider brooch!) for a ~*spooky*~ look?
Keeping with the old-school theme, we love the idea of wearing this don't-mess-with-me skull crown with a loose white dress for a back-from-the-dead vibe.
Looking for something that's less scary, more sweet? Wear this fern crown with a green or brown dress and you're instantly a wood nymph.
Or why not try wearing this monarch butterfly crown with a flowing dress (and maybe a pair of those easy-to-source, backpack-style wings)? Suddenly, you're the Queen of the Butterflies.
If you want to be a witchy weird sister without all the fuss, just grab some black clothes (which you prob already have) and a statement crown such as the following. Now, something wicked this way comes.
Want to dress up as a mermaid but can't stand the idea of shuffling around in a tight "fin" skirt and shell bra all night? Pull on your greenest leggings, add a cute crop top, and top if off with this shell crown. People will know right away what you're going for!
All you need is a black and red dress, skirt-and-top combo, or even just black jeans and red sweatshirt and you're the Queen of Hearts with this crown (and wand!) set.
In a white sweatshirt and jeans or sweats — plus this cozy, fur-trimmed crown — you're Max from Where the Wild Things Are!
Turn to stone any ~undesirable~ chap who asks for your number on Halloween in this gorgeous Medusa-inspired crown.
Got a super-fabulous blue gown you've been dying to wear? Add this crystal-embellished crown and you're basically Elsa from Frozen.
Love Mexican sugar skulls but not ready to go full-on face paint? Wear this pretty crown with an all-black outfit and you're golden.
Have the best Halloween ever and make sure to work that crown like the greatest ghoul out there.