If you're still looking for a Halloween costume, SNL's David Pumpkins might be perfect
Hopefully you caught this week's episode of Saturday Night Live by now — if not, it's definitely worth watching. Tom Hanks hosted for the ninth (yes, ninth!) time, and Lady Gaga totally slayed with two incredible performances. One of the strongest sketches of the night was actually pretty goofy — called "Haunted Elevator" (but also referred to as "100 Floors of Fright") it featured Beck Bennett, Kenan Thompson, and Kate McKinnon.
The premise? Well, McKinnon and Bennett decide to ride on a haunted elevator to be spooked out for Halloween. But what they encounter is something quite… odd. Here's the sketch in full (and, prepare to crack up):
https://www.youtube.com/watch?v=rS00xWnqwvI?feature=oembed
Only Tom Hanks can create such a weird character. Of course, David Pumpkins went viral quite quickly. In fact, even Ben Schwartz wanted to get in on the action this Halloween. An exchange he had with Bobby Moynihan, who was was also in the sketch, might be the best thing on Twitter.
And, just like America did with Ken Bone's IZOD sweater, the search to find the legendary "David Pumpkins" suit happened mighty quickly.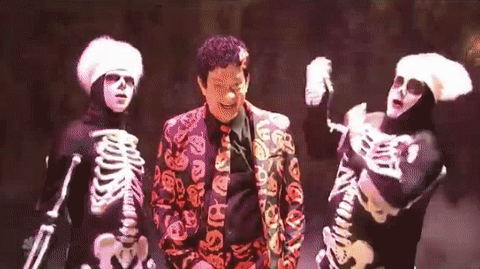 While a few pumpkin suits exist — because the world is a strange yet glorious place — Twitter user Max Burns happened to find a suit on Amazon that's incredibly similar, if not the exact replica. false
If you're still looking for a good Halloween costume, and are willing to spend a little over $100 for it, David S. Pumpkins might be your best bet! For a costume that's a bit cheaper, but still captures the pumpkin essence, here's a link to an alternative option for less than half the price.
When you stroll into your party dressed as David Pumpkins, just make sure to remember his powerful intro: "How's it hanging? I'm David Pumpkins, and I'm going to scare the hell out of you."
…Any questions?