This Halloween brunch guide is ghoulish breakfast party goals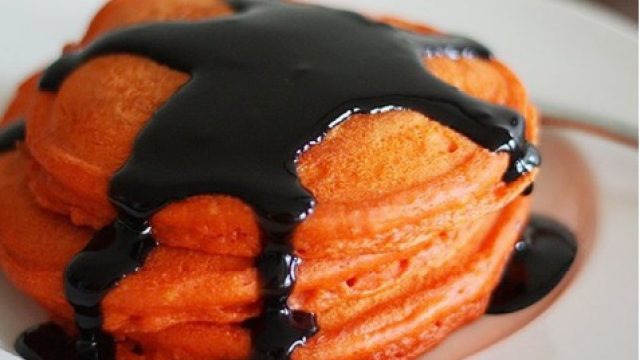 We won't deny that we look forward to a good Halloween party every single year…but honestly, who wants to deal with a hangover and a stomach ache from all that sugar the next day?
If you're looking for a way to celebrate Halloween with your squad without trying to navigate the tipsy masses and frigid temps, we propose throwing a Halloween brunch for your crew: It's a perfect, relaxing way to enjoy Halloween without trying to find your friend who's in the corner making out with a fake doctor, or warding off the advances of real-life creepy crawlers. Basically, a Halloween brunch can still be just as festive and fun as a Halloween party, with all the treats and none of the tricks next-day regrets.
Here's how to throw an epic Halloween brunch bash your pals will never forget.
1Decorate to your heart's desire.
You can decide if you want a specific theme (i.e. autumn harvest with lots of leaves and pumpkins) or go full-on goblin, adding spooky details like cobwebs, witch's brooms, and too-real-looking spiders to freak your pals out. Either way, have fun with it and do it up.
2Decide if you want costumes or not.
Because a Halloween brunch is a low-key affair, you may opt out of forcing your guests to dress up…or not! Or you can pick a theme to gently guide guests that also allows them to be as involved or as low-key as they want, like '80s or '90s nostalgia.
3Set the mood with a spooky Halloween playlist.
This ultimate Halloween Spotify playlist features 100 of the most ghastly, ghostly songs to play while your pals enjoy their brunch. Or, if you've got an epic TV set up, feel free to play classic Halloween movies like Friday the 13th, A Nightmare on Elm Street, or Scream while your guests chow down.
4Serve up boozy witches brew.
If you brunch and don't have a fancy cocktail, did you really brunch? This is the perfect opportunity to whip up a scary good cocktail, like this Death by Vampire. A few of these and your guests will be howling…in a good way, we promise. (Also, a spooked up Bloody Mary can never go wrong.)
5Donut forget the doughnuts.
Was there ever a more perfect breakfast food than the doughnut? And a ton of stores sell super festive options this time of year, making them an incredibly sweet and easy addition to your menu.
6Two words: Pumpkin pancakes.
Let your inner basic run wild. It's like, the rules of brunch or something.
7One final sweet treat.
Black velvet cupcakes…need we say more?
8Include a lighter option…but still make it festive.
https://www.instagram.com/p/BZTHs3AFMyy
As much as we love junk food on Halloween, many of your ghoulfriends might also appreciate a slightly better-for-you option. And that's where these jack-o-lantern fruit bowls come in. (Made from oranges, of course.) Here's a helpful how-to video for reference.
9And another drink to wash it all down.
Sure, you could serve a homemade version of a PSL…or you could go next-level and serve a Pumpkin Matcha Latte. Starbucks will be shakin' in their suede ankle boots.
Once you throw a Halloween brunch, you may never venture out on Halloween night again…which is perfect, because you'll be inside long before the real scaries start. Happy Halloween!