10 Halloween brunch recipes to keep the party going the next morning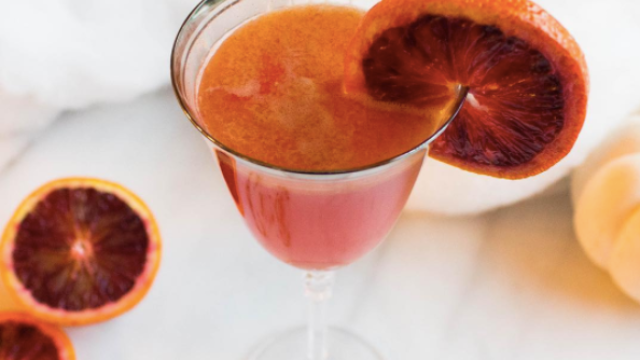 There's no doubt about it — Halloween parties are fun, and they're even more fun when you're an adult and can stay out way past dark. But what about when your pals want to have a ghoulish Halloween brunch to keep the party going into the next morning?
You might still be nursing that sugar hangover, but you've gotta eat eventually. So that's where these essential and delicious Halloween brunch recipes come in. These Halloween-themed food ideas and recipes are perfect to enjoy for brunch with your squad the entire month of October…and we won't tell if you use 'em well past November 1. We promise. Besides, who wants to give up all the tricks and treats as soon as all the creepy crawlies go back inside for the night?
Check out these brunch recipes that are a little bit sweet, a little bit sour, and a whole lot spooky.
1Candy corn donuts
Admittedly, candy corn is one of those divisive Halloween treats — you either love it or hate it. The good news is, these delicious candy corn donuts by Chez Cateylou aren't actually candy corn-flavored…that is, unless you top them with a mountain of the yellow, orange, and white candies. We're not judging.
2Coffin-shaped homemade Pop Tarts
These coffin-shaped homemade Pop Tarts by My Crazy Good Life are totally kid-friendly, but we're sure that even the, ahem, big kids in your group will love them too. And they're surprisingly easy to make, so we guarantee you'll never go for the sad toaster pastry in a box version ever again.
3Black magic toast with orange pepper salsa
This Halloween-themed version of bruschetta is the perfect appetizer for your pre-brunch cocktail.
4Trick or treat pancakes
If you have brunch without pancakes, did you really have brunch? We're going to go ahead and say no. These trick or treat pancakes by My Name Is Snickerdoodle are the most adorable take on everyone's favorite breakfast food. All you need is pancake mix, food coloring, and some store-bought googly eyes (or you can make your own with black and white icing), and you will have the cutest monster pancakes of all time for your crew.
5Pumpkin crepes
Even though you're probably sick to death of all pumpkin everything by now, it simply wouldn't be Halloween without a little bit of the signature fall flavor, right? These homemade pumpkin crepes by Simplistically Living will be the unexpected hit at your next-morning Halloween soirée. They're anything but basic.
6Hot vampire's blood cocktail
https://www.instagram.com/p/BKmFnOejJlu
This hot vampire's blood cocktail by Eighteen25 will really get your blood boiling, but don't worry: It's just red hot chocolate with some delightfully creepy fingers thrown in. It's creepy and it's kooky, mysterious and spooky, all together ooky — but your guests will die for it.
7Bloody Mimosa
Brunch is legit not complete without a mimosa, and this bloody mimosa by nutritionist Kara Stout is a lighter twist on the signature mimosa, because it calls for a fresh blood orange for flavor instead of store-bought OJ. It probably won't cancel out the five pounds of candy you enjoyed last night, but it's definitely the most delicious (and festive) way to get your buzz on post-Halloween party.
8Deviled egg-balls
https://www.instagram.com/p/u10x6ipRJZ
Is there anything more inherently Halloween than deviled eggs?! These are the perfect app for your festive brunch fiesta, but the only thing scary about them is how easy they are to make.
9Pumpkin spice matcha latte
https://www.instagram.com/p/uzSEgEHBMh
You can't recover from your Halloween haze without a little caffeine, but if you're so sick of your regular 'ol Pumpkin Spice Latte, you have to try this pumpkin spice matcha latte from Epic Matcha, which you can casually sip while you listen to "Monster Mash" for the 900th time.
10Bloody Mary with Mary's severed fingers
This frightfully realistic spin on the classic "hair of the dog" drink might terrify your pals, and that's exactly the point. Equal parts spicy and spooky, one sip of this witches' brew will have your guests spellbound.