Please enjoy these pictures of pregnant ladies who slayed the Halloween costume game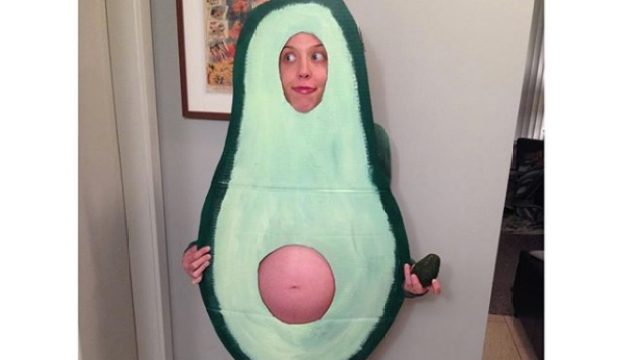 Creativity is key when it comes to the perfect Halloween costume. And even if you're not in a position to go door-to-door for candy, Instagram has officially given us a platform to show off come late October, which rules if you're a Halloween-loving pregnant lady with a noticeable baby bump.
We imagine you gather your accessories and costume parts, put it all on, take a few pics, then take it all off and lay down (it's no joke when people say that pregnancy makes you tired all the damn time). We'd like to extend a kudos to those ladies and their tiny plus ones who absolutely slayed the game when it came to the perfect mommy+baby couples costume. Read on for 12 of our favorites.
And let these serve as major costume inspo for any and all expecting mamas this Halloween season.
1The Fortune Teller and Crystal Ball
https://www.instagram.com/p/BMQhXTmhHt8
We see a baby in your future!
2Jack the Pumpkin King
When your a family of Tim Burton fans there's only one way to go (*make sure body paint is specifically for your body, please).
3The Kool-Aid Man
https://www.instagram.com/p/BZR8Kgylv_F
OHH YEEAAHHHHH this mama's ready for a foot massage.
4Family Under Construction
https://www.instagram.com/p/BMQDjumBe_q
This project's going to take about 9 months, give or take.
5Mama Kangaroo and Joey
https://www.instagram.com/p/BMQFM4ajPok
Extra points if you're literally having a Joey, Joseph, Joe, Joanna, Jojo…
6Skeleton Fam
For when your family gets a group X-ray (this makes a super cute birth announcement, too).
7The 8 Ball
https://www.instagram.com/p/BMO2yVrlF6P
Adorable baby bump, top left pocket.
8Avocado and Perfect Pit
https://www.instagram.com/p/9h1FRhTHcr
This guac is gonna cost extra. Diapers ain't cheap!
9The Preggo-Prego Sauce Jar
https://www.instagram.com/p/BL6AeWXged5
For when you've heard the word "preggo" so much you decide to just lean into it.
10Juno and Paulie Bleeker
Pay homage to one of our favorite indie gems with stuff you probably already have in your closet. (btw, Juno came out 10 years ago this year. In. Sane.)
11Wilson the Ball from Castaway
https://www.instagram.com/p/BGCjTQgFruK
LOL. But also….WILSON!
12Let it All Hang Out
https://www.instagram.com/p/BMP-IUCA4yD
Last but not least — grab yourself a non-alcoholic beer, embrace your inner all-American dude, and git 'er done.
We hope you're inspired by these awesome ladies, whether you're expecting or not.