Are Any Halloween Activities Safe to Do This Year? Experts Weigh In
Here's everything you need to know before you celebrate.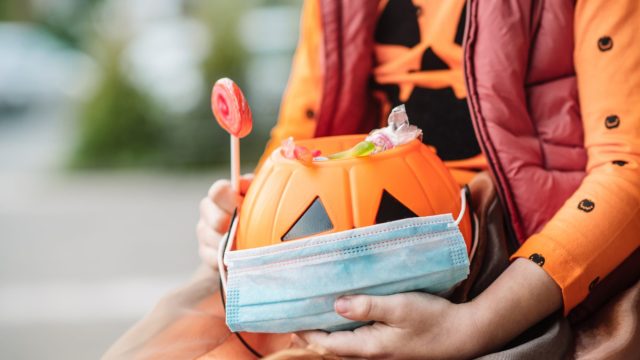 As temperatures begin to drop, many families are beginning to plan their Halloween activities. But because the coronavirus (COVID-19) pandemic is unfortunately still in full swing, it all comes down to one important question: Is Halloween canceled this year?
Not totally. Even though the pandemic is throwing a wrench in all of our plans doesn't mean we still can't enjoy the holiday—we just need to be more cautious about the activities we choose to do. On September 21st, the Centers for Disease Control and Prevention (CDC) updated its guidelines to highlight the different risk levels for certain activities that families should be aware of, with many of the traditional Halloween festivities that we know and love landing in the higher risk category. And with coronavirus cases reaching their highest record in nearly two months, with 54,000 positive cases reported on October 2nd, it's imperative to know the best course of action to stay safe as the holidays approach.
Keep in mind, though, that just because some festivities might be safer than others doesn't mean they're risk-free. So to better understand exactly which Halloween activities you can do and which you should steer clear from, we spoke to several medical professionals. Here's what they had to say, so you can decide what's best for you and your family.
What are the safest Halloween activities to do this year?
If you truly want to play it safe with your family this year, experts and the CDC recommend celebrating Halloween in the comfort of your home. Staying indoors with people you live with rather than celebrating outside in large (or even small) group settings will greatly reduce the risk of you and others getting sick. Any activity not done at-home will land in the moderate- or high-risk categories, according to the CDC.
When it comes to the kinds of Halloween activities you can do from home, the CDC recommends carving and decorating pumpkins, decorating your home, or having a Halloween movie night with your loved ones. "This year, families have the opportunity to create new Halloween traditions," Dr. Jean Moorjani, a pediatrician at Orlando Health Arnold Palmer Hospital for Children, tells HelloGiggles. "Kids can create Halloween-themed treats or arts and crafts. Parents or caregivers may go ahead and purchase their kids' favorite Halloween candy, and perhaps create a scavenger hunt or an 'Easter Egg hunt' in the house for their kids to enjoy."
What health rules should people follow if they partake in in-person Halloween activities?
First, remember that celebrating Halloween outdoors, whether with your family, a small group, or especially, a large group, makes you more susceptible to getting the virus. "Depending on where you live, Halloween can be a time where large crowds of people gather together, which could potentially increase your family's exposure to the virus," says Dr. Moorjani. "My recommendation would be to skip large events, parties, or haunted houses this year and instead, create new family traditions. Any activity where you can't properly social distance is a risk."
However, if you're committed to celebrating Halloween outdoors, Dr. Moorjani says you must "physically distance, practice good hand hygiene, and to wear a mask (for kids two years or older" no matter the kind of activity you choose to do. "If people are planning to engage in in-person Halloween activities, they should limit it to smaller groups of people who are not exhibiting any symptoms or have not been recently exposed to or tested positive for COVID-19," she adds. "Outdoor gatherings are preferred."
And this is especially true if your neighborhood has confirmed coronavirus cases. "It is best to skip out on trick-or-treating or any other activities that require direct interaction with others," says Dr. Bita Nasseri, a leading Mayo Clinic-trained physician for 20 years. However, if you live in an area with low or no COVID cases and want to trick-or-treat, Dr. Nasseri says you can "create a pod of close friends or family members and only visit each other's homes in order to limit the number of people you are in direct contact with."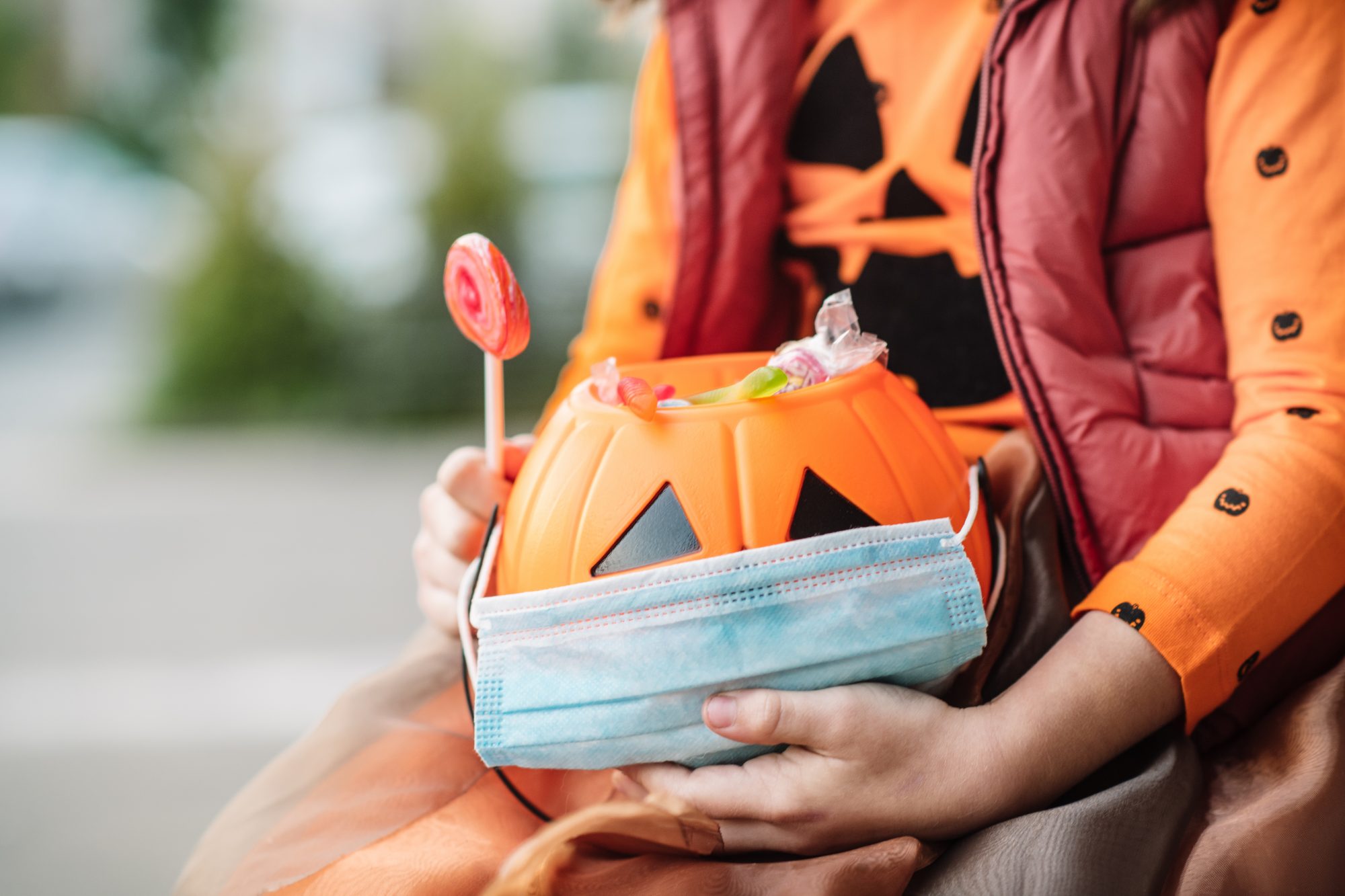 But just because a pod can be made with people who exhibit no symptoms doesn't necessarily mean everyone is in the clear. Before you head out to trick-or-treat, Dr. Nasseri recommends that everyone get tested since if you're asymptomatic, you can still be COVID positive. And when it comes to the night of, she suggests taking an extra few steps by creating multiple checkpoints to take temperatures and following the go-to rules of wearing protective gear, staying six feet away from others, and using hand sanitizer with at least 60% alcohol. "If you feel any sort of symptom, whether it be a cough, a slight fever, or loss of smell/taste, do not go outside and make sure to quarantine," she adds.
Are any outdoor activities considered low risk?
"Outdoor activities where masks are required and social distancing is possible, like small backyard gatherings with a handful of friends, corn mazes, and pumpkin patches, are also relatively low-risk if you live in a city with minimal COVID cases," says Dr. Nasseri. Still, if you do choose to engage in any low-risk outdoor activity, the CDC highly recommends not to use a costume mask in place of cloth masks. "It is also important that protective masks (two to three-layer masks well fitted to your face, and NOT costume masks) are required even if social distancing is possible," says Dr. Nasseri. This is because most Halloween masks aren't considered thick enough to protect you from the respiratory droplets that can help spread the virus.
And if you do go to a Halloween party outdoors where food and drinks are involved, the CDC says that there's a chance the virus can be spread if an infected person handles food objects and shares them with someone else, especially if they've touched their eyes, mouth, or nose. And yes, that includes candy.
"Right now, we don't have any research or data that would suggest that kids need to wait a certain amount of time before eating candy they've collected while safely trick-or-treating," says Dr. Moorjani. "I would still encourage proper hand hygiene for everyone before consuming Halloween candy and treats. Just like any year, don't let your children consume candy that is not properly wrapped or sealed."