Meet Halle and Chloe Bailey, the insanely talented sisters Beyonce is obsessed with
Here comes the next generation of superstar female musicians to take over the industry — maybe even follow in the footsteps of Beyonce and take over the world. Halle and Chloe Bailey, 17 and 16-years-old respectively, have just released their first EP album on iTunes entitled Sugar Symphony. They wrote and produced nearly the whole thing on their own. But this isn't the first thing we've seen from Halle and Chloe. They've been shaking things up with their incredible voices for a while now and they can count Beyonce as their mentor.
Halle and Chloe started their YouTube channel in 2008, when they were just 8 and 10 years old. Their profile exploded, though, two years ago when they released a remarkable cover of Beyonce's "Pretty Hurts." It was stripped down to just vocals and keys, and it's impossible to take your eyes off of. Since then, they've been chased around by one recording label after another, all of which Halle, Chloe, and their parents chose to turn down.
Their father, Doug, said there were some fears that they would be financially ripped off, a common occurrence in the music industry, especially for newbies. Also, they didn't want to face the same roadblocks they met in the acting business, in which many casting agents refused to hire the girls unless they got rid of their dreadlocks and straightened their hair. Courtney, their mother, told The Cut, "It's who they are! They were like, 'We love our locks, mommy!'"
But then Parkwood Entertainment came along. Perhaps a better way to put it is: Beyonce came along. Beyonce founded the label Parkwood Entertainment in 2008 and has since been signing powerhouse proteges that are lucky enough to be mentored by the Queen herself. Parkwood got in touch with the girls after "Pretty Hurts" and asked if they had been signed to a label yet. The rest is history. Halle and Chloe's contract with Parkwood Entertainment is good for up to six albums — and it's estimated to be worth $1 million.
Doug said, "Beyoncé's been extremely fair with the girls in their deal with her." She updates their recording equipment on the regular, sends them on trips around the world to work with successful producers, and brings them backstage at her concerts. More importantly, Beyonce is hands-on with this talented pair, rather than just handing them off to Parkwood employees. She personally emails back and forth with her opinions on their music and she sees them face-to-face every couple of months. So far, it's been the kind of working relationship young musicians and their parents can only dream of.
Beyond Parkwood, Halle and Chloe were even given the chance to appear in Lemonade with Beyonce's power-packed girl squad. Halle said, "Just being in midst of 'Black Girl Magic' was amazing."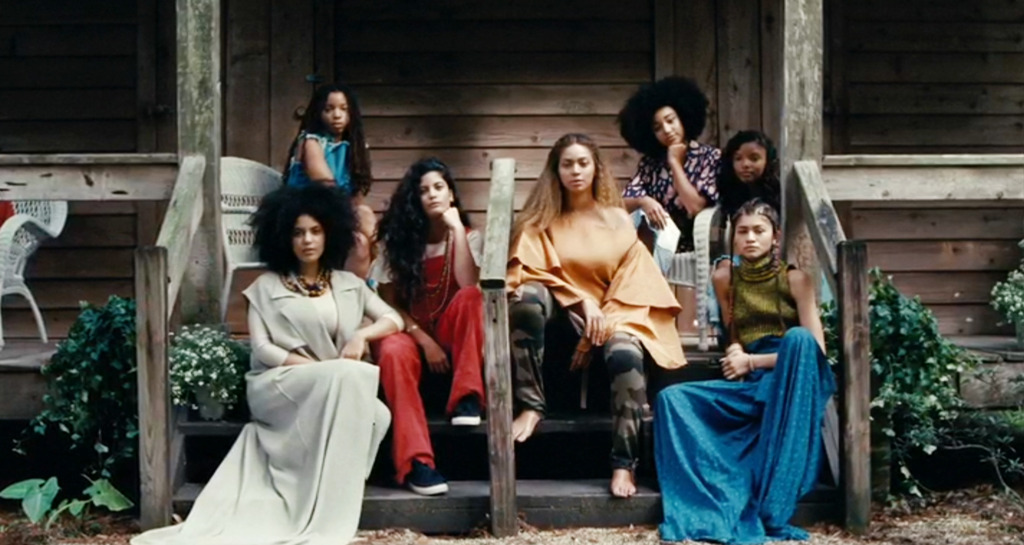 Jada Yuan writes for The Cut: "Beyoncé seems to be embracing her role as a spiritual and musical godmother to young black women of America — showcasing their talent and resilience, celebrating natural beauty, and lifting up all women." That is certainly shining through with the Bailey sisters.
Michelle Obama is a superfan of Halle and Chloe, too. They've performed twice on-stage for her. In March, at the SXSW Music Festival, the First Lady gave Halle and Chloe an introduction, telling the crowd how impressed she was by them and their talent.
Apparently, Beyonce calls Halle and Chloe "little aliens" because of "their unearthly ability to grasp musical concepts (and production equipment) that adults find difficult." Combine that with their raw talent and immense likability, and these girls have a long, long way to go. We're totally on board.