Halle Berry clapped back at trolls who criticized her 6-year-old son for wearing heels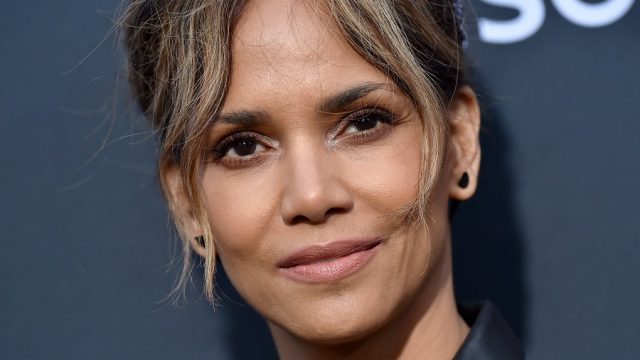 If there was ever a time to stop unnecessarily criticizing others on social media, it's right now. We are living through a worldwide health crisis, but some people still think it's a good time to point out how and why celebrities are raising their kids "wrong." Well, one Oscar winner is not here for it. After Halle Berry posted an Instagram of her son wearing her heels, she received hateful comments. Berry responded with a simple message that will, hopefully, put things in perspective for at least a few of these people: It's harmless fun.
Berry's video shows her son, Maceo, wearing plaid pajamas and a pair of his mom's white heeled boots. He's clopping around in them and trying to make it up the stairs. The actress captioned the video, "#Quarantine Day 12."
In response, Berry got a ton of comments about how she's "emasculating" her son, "making him gay," and should "buy him a Playstation" instead. One commenter suggested that Berry being biracial is the reason she's okay with her son wearing heels. (Um, what?) Another asked if she's been "talking to Dwyane Wade?" referring to the former NBA player who has a transgender daughter. Bottom line: It got gross.
While Berry didn't respond directly to her haters, she did respond to a number of comments in which fans defended her.
"Harmless fun. It's tight on these kids right now. Let's have a laugh and some compassion yawl!" she wrote.
When one troll commented, "I hope that's the daughter ❤️," it set off a huge discussion. While some did agree (ugh), many people wrote to tell the commenter to mind their business because any kid of any gender playing in heels is just fine. In response to one of the kind comments, Berry wrote, "???????? harmless fun. Tryna survive right now. You feel me?"
Berry also responded to a commenter who wrote, "she's having the time of her life lol," saying, "well it's a he (?) and he is having a ball. Tryna cope the best he can. Laughter helps a lot right now!"
She's right. It doesn't matter at all that Maceo is playing with his mom's shoes. But it does matter that some people turn to hatred very quickly when they see something that makes them uncomfortable. That's what's harmful. Not this.
Lia Beck is a writer living in Richmond, Virginia. In addition to Best Life, she has written for Refinery29, Bustle, Hello Giggles, InStyle, and more.
Read more