How a haircut helped me fall in love with makeup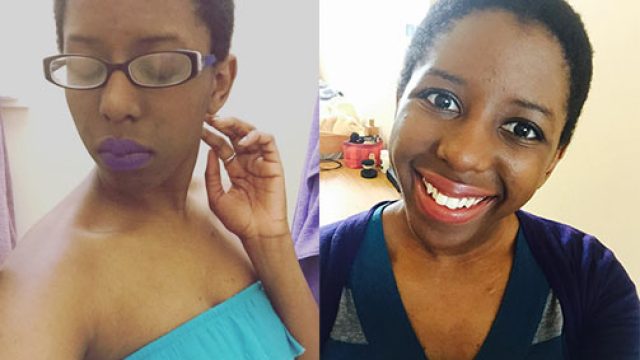 Growing up, I would watch my beautiful older sister effortlessly swipe mascara and eyeliner on her eyes, pat rouge blush on her cheeks, and finish with a perfect tinted lipgloss each morning. I watched my mother massage foundation onto her face and pick a complementary eyeshadow to match her outfit. I loved watching the women in my life do makeup then, and I still do. Now that I'm in my second year of college, whenever I need a break from studying I watch in awe as my roommate contours, bakes, and highlights her features. It is pure art, and the patience, creativity, and beauty that makeup creates is breathtaking.
For me, I never quite figured out how to create the perfect wing, pick the right foundation color, or rock a bold lipstick. I admired from afar but never felt a part of the makeup movement. I would go into Sephora, Ulta, and Target and see people buzzing around colorful palettes and a plethora of brands and just feel overwhelmed. I watched makeup tutorials on YouTube and be overwhelmed by their magnificent talent. I'd always think that I'd never be able to reach their standards, so I simply wouldn't try.
When my sister got married in September of 2015 I had to get my makeup professionally done. It was an eye-opening experience seeing myself transform in a matter of 30 minutes. That day I felt beautiful, confident, and mature. So when I got my hair cut and decided to go completely natural with my hair routine, while I loved the change, I also have to admit that I felt myself feeling a little self-conscious over time about my appearance. I went through what many girls who are hesitant to cut their hair feel like: I was scared that I looked like a boy. 
It seems like a petty and shallow thought, but as many girls do, I took great pride in my hair. I also wanted to feel feminine at times, and my hair was often how I accomplished this. The last time I felt extremely feminine was when I had makeup on, so I decided to take the plunge and try to learn everything I could about the art form.On a weekend trip back home to St. Louis while I was at the mall with my mother, I decided to stop by the enormous Sephora. The store was bustling with customers, employees, and makeup aficionados. I stood there in sweatpants, with a hoodie over my newly cropped hair and my mouth agape. I felt like a kid in a candy store — I wanted to touch and look at everything. It was all so colorful, so exciting. Where was I to begin?
I decided to approach one of the workers, and just blurted out that I was brand new to makeup and needed all that help I could get. She smiled kindly and started off by using a machine to figure out my perfect foundation. Apparently, I was not the only person who had ever had trouble finding my color. For some reason, this made me feel incredibly relieved. She matched me with Sephora's 10 Hour Liquid Foundation in Deep Chocolate, which (even to my inexperienced eye) is by far the best foundation I have ever used. It's light, you only need a dollop to use across your whole face, and it lasts so long. The coverage is great and matches my skin tone perfectly.
After that, I picked up some fun lip colors from L'Oreal's matte collection. My lips are my favorite feature to play with and I love to experiment with different colors like purple, orange, white, or black. Colourpop is another great brand to get bright lip colors fro, and I was able to order a bunch of them for fantastic prices online. My roommate had recommended using NYX eyeliner and mascara because it glides on well. My sister suggested face primer to make sure I did not break out and that my foundation went on smoothly, so after watching a couple YouTube tutorials I learned that Nivea Post-Shave Balm for Men was actually the best primer one could use. Go figure!
I went home eager to play with my small but mighty makeup collection. I wore simple looks at first to get a feel for wearing makeup everyday. At first it was stressful waking up early to get a put together look, but after that it became a calming and necessary part of my morning routine. Until I started doing it everyday I did not realize that it was just as relaxing to put on makeup as it was to watch others do it. In the beginning I still fumbled with wands, got eyeliner in the corner in my eye, and put on way too many layers of lipstick. But my hand steadied, I learned my lip and eye shape, and soon I could do a full face of makeup in under 10 minutes. I have even learned to do it in moving cars or subway trains, and that's a plus for sure. The sweetest moment I've had with makeup was when my roommate saw me applying foundation with my fingers and gave me an adorable pink beauty blender to make the process go more smoothly.
Having shorter hair made me feel like I could get away with bolder, deeper looks. Getting my hair cut was a gateway to experimenting with makeup and being more accepting of my looks, because part of me had changed so much already. Though I still don't get the perfect makeup look each time, I think that's the best part. I learned that makeup isn't about perfection, it's about feeling good no matter what you do with your face. Makeup is just fun, it's a way to express myself, accentuate my best features, and make me feel so much more confident. It has definitely made me feel like I can take on the world.
Charlene Haparimwi is a 20-year-old DePaul University student studying Public Relations and Advertising with a minor in Creative Writing. She has been published in Hooligan Mag, Femsplain, Slant News, Literary Juice, The Coffeelicious and more. She is passionate about intersectional feminism, black rights, LGBT rights, and restorative justice. She is originally from Harare, Zimbabwe, lived in St. Louis for 13 years and currently resides in Chicago. Find her on Twitter, Instagram, and check out her blog.