As a woman of color, here's what the "Hair Nah" video game means to me
In 2011, when I made the decision to go natural, I never realized all the unwanted attention that would come along with it.
For a while, I didn't know a thing about my natural hair. I pretty much had a relaxer before I was allowed to cross the street alone. My Saturdays consisted of my mom and me spending a bulk of my day at "the Dominicans," getting my thin, shoulder-length hair done.
I didn't give my hair much attention at the time.
However, the kids in my predominantly non-black high school were often drawn in over my ability to change my hair from straight with bangs to braids hanging down my back.
Right before I headed off to college, I discovered natural hair YouTube tutorials and began researching more about natural black hair.
I decided I wouldn't go natural but I would focus on having healthy relaxed hair like my girl (and beauty vlogger) ULoveMegz. With a lot of TLC and patience, my hair was flourishing and getting thicker than a snicker. After some time, though, I eventually decided to fully transition and go through with cutting off the relaxed ends off my hair and embracing my natural hair texture.
https://www.instagram.com/p/Bbpqy-NA4YM
By this point in my life, I was used to my hair drawing unwanted attention, especially since it was always different. A former vice president of a company I worked for felt inclined to remind me and my colleagues during a team meeting. That same VP reached out to grab my hair once she laid eyes on its natural state. I'm sure I wasn't the first, nor the last, natural-haired black woman she'd seen in her life. I assume this was her chance to finally satisfy her need to feel this mystical thing naturally growing out of my scalp.
That was the first time I had to block somebody's hands in an effort to keep them from touching my hair — and totally invading my privacy. Unfortunately, for me and many other women of color, it may not be the last.
When I saw Momo Pixel's new Hair Nah video game trending, I thought it was too good to be true. A genius created a game all about the semi-traumatizing experience that I recently encountered with my hair?
Even though this video game has '80s vibes, it's all too real for women of color today.
The game is about a black woman who is tired of people touching her hair, and I can seriously relate.
Momo Pixel designed, created, and wrote music for the game for the Portland-based agency Wieden and Kennedy, according to PopSugar.
The video game opens with the above message that hits home for many. While the game aims to help black women live out their daily struggle in a virtual space, it also educates non-black women who don't relate to this invasive experience.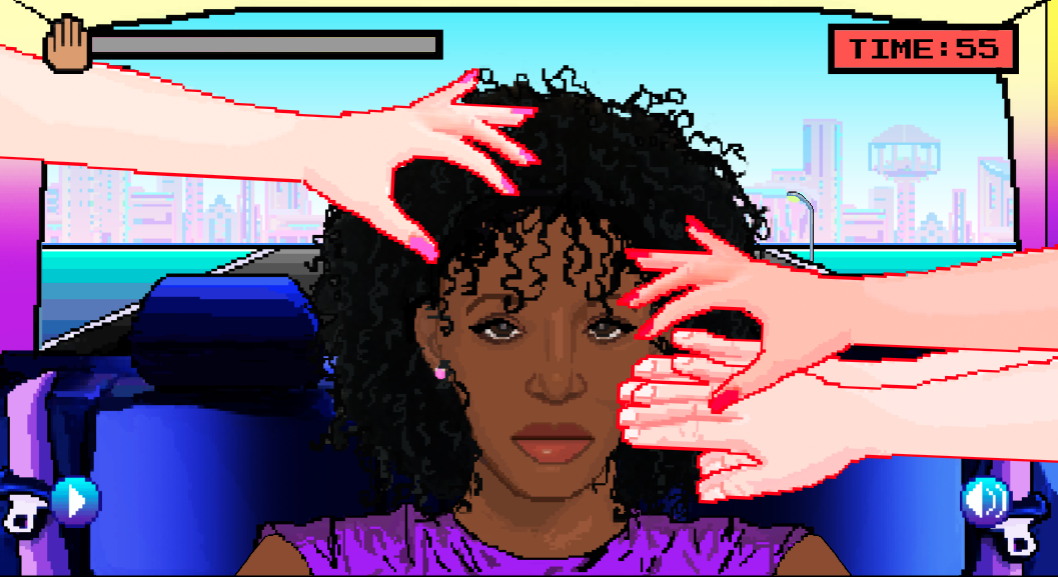 I wish the video game existed when I had that VP reach out to touch my hair in the break room.
The next time someone feels the need to touch your hair, direct them to this interactive game. That will teach them Hair Nah, do not touch my hair.