This hair magician creates beyond impressive hair art on people's heads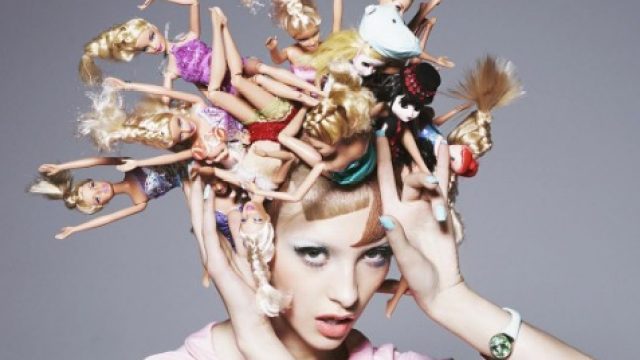 Finally. It's all happening. Hair art is here, and now we're questioning everything we thought we knew about our own hair.
Japanese stylist, Ryoji Imaizumi, has been called a "hair magician" and it's not because he can pull a rabbit out of his hat. His hair designs are the haute couture of the salon world, and his designs are mesmerizing everyone, thanks to his Instagram. Imaizumi uses intricate designs, props and unusual colors to make magic out of hair.
W magazine reports that the 41-year-old stylist's work ranges from editorial shoots (with various international Vogue magazines) to advertising campaigns to private work for celebrity clients, like Victoria Beckham and Madonna. By 2002, W reports, Imaizumi built a reputations as a "hair magician" for using wild props like Barbies and gummy bears in his hair creations.
In fact, Imaizumi seems to find inspiration in even the most unlikely places, like the pepper shack. Watch as he creates a head piece out of red peppers — and makes it look amazing.
Sometimes he'll dabble in a little social commentary, using cultural artifacts in his works. Below, he constructs a piece out of Barbie dolls, and it's almost impossible to look away. Seriously, it's fascinating and follows your eyes no matter where you move.
Imaizumi got his start in 1998 as an assistant at Bumble and Bumble. He told W magazine his beauty motto is, "Imperfection is my perfection."
His Instagram is filled with videos and snaps that will really make you explore where form and function meet — especially when they meet on top of your head.