Where to watch Hair Love the Oscar-winning animated short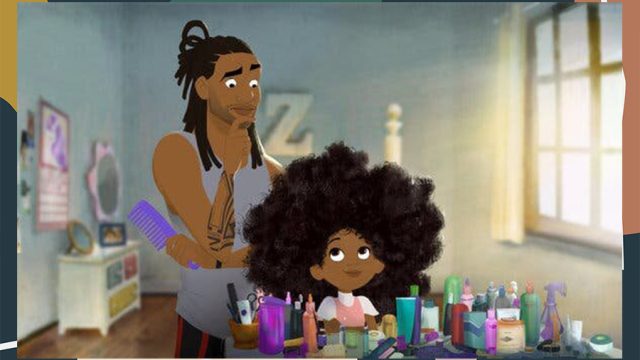 Hair Love just won the 2020 Oscar for Best Animated Short Film, and if you've seen it, you'll understand why. The incredible, heartwarming short that's just under 7 minutes long is packed with more meaning, emotion, and impact than some movies with 10 times its run time.
Directed by former football player Matthew A. Cherry, the film tells the sweet, relatable story of an African American father learning how to do his daughter's hair for the first time. Tackling negative stereotypes around both natural hair and black fathers, Hair Love uses its bright, colorful animation style to show the beauty of an underrepresented population: A loving black family.
What began as a dream and Kickstarter campaign (which inclusive beauty brand Dove supported) transformed into what has now become an Oscar-winning film that shows and empowers a different, yet equally important standard of beauty.
And to make it even cuter, in 2012, Cherry predicated this monumental win with a tweet that already claimed his Academy Award.
https://twitter.com/udfredirect/status/208784467161128962
Fast forward a full eight years and Cherry was visibly moved to have won an Oscar. In his acceptance speech, he said, "Hair Love was done because wanted to see more representation in animation. We wanted to normalize black hair."
Karen Rupert Tolive, who also worked on the movie, expressed the same sentiments. While fighting back tears to accept the Academy Award for the movie she described as being "a labor of love," she said,
"We have a firm belief the representation matters deeply especially in cartoons because that's when we first see our movies how we shape our lives and think about how we see the world.
Beyond just the fictional, animated world of Hair Love, Cherry is an advocate for protections against discrimination on hairstyles and textures. During his speech, Cherry urged for the support of The Crown Act, which would ensure protection against discrimination based on hairstyles and textures in the Fair Employment and Housing Act, along with state Education Codes.
Cherry even brought a teen with dreadlocks as his Oscar date because the high school student had been told he had to cut his hair in order to attend graduation.
How to watch Hair Love:
The film is available to watch for free on Youtube and Cherry's site, so if you haven't seen it yet, we highly suggest you check it out below.
Here's to films with more representation like this in 2020 and beyond.