How a short film helped me teach my daughter the beauty of her natural hair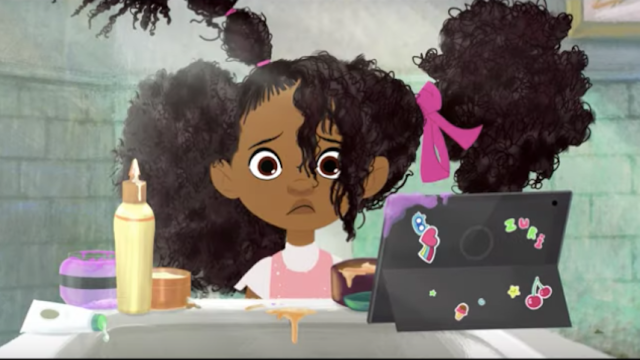 Motherhood—and mothers' voices—should be celebrated every day. But that also means having conversations about the complexities of parenting. In our weekly series, "Millennial Moms," writers discuss the simultaneously beautiful and daunting responsibilities of motherhood through the lens of their millennial experiences. Here, we'll be discussing things like burnout from the several side hustles we work to provide for our kids, dating app struggles as young single moms, rude comments from other parents at daycare, and so much more. Stop by every week for a judgment-free space on the internet where women can share the less rosy aspects of motherhood.
Nestled in our movie theater seats waiting for The Angry Birds Movie 2 to begin, we watched an animated short called Hair Love debut before the feature film—an unexpected twist that quickly grabbed my 5-year-old daughter's attention. Sharing the same name as the little girl in the short, my daughter Zuri's eyes lit up with wonder and intrigue as Hair Love's Zuri intensely studied natural hair tutorials. Accustomed to her mother perfecting her thick, bouncy coils, animated Zuri wanted to learn how to tame her own fro—only to find out that her hair has a mind of its own. Despite Zuri and her father's trying efforts, all hope seemed lost—until they watched a tutorial together, finally nailing the perfect protective style. We come to find out in the latter half of the short film that Zuri's mother (voiced by the incomparable Issa Rae) is currently battling cancer, and Zuri intently watches these video tutorials to connect with her mom and learn to maintain her hair by herself.
My daughter was quiet and fixated by the screen, holding onto my arm and watching Zuri and her father's every movement. She smirked when Zuri began to comb her hair, and laughed when the comb just wouldn't connect with her tight coils—an experience that my daughter and I know all too well with our type 4 hair. Trying my best to hold back my own tears when Hair Love ended, my daughter turned to me and said, "I love myself."
Directed and written by former NFL player and BlacKkKlansman executive producer, Matthew A. Cherry, and co-directed by animation royalty including Bruce W. Smith (The Proud Family) and Everett Downing Jr. (WALL-E), the 5-minute short celebrates Black girls and their natural hair through gorgeous visuals and the story of an African-American father and his daughter. Beginning as a Kickstarter campaign in 2017 with an initial goal of $75,000, the campaign garnered over $300,000 to fund Cherry's passion project. The short has a number of co-executive producers including Jordan Peele, Yara Shahidi, and Keri Shahidi. Gabourey Sidibe, Gabrielle Union-Wade, and Dwyane Wade also serve as associate producers.
https://www.youtube.com/watch?v=qI7Jla3UgSE
It is no secret that representation for Black children is scarce in media; most of the images presented are often harmful and/or stereotypical—which ultimately contributes to low self-esteem. But Hair Love explores Black fatherhood and the complexities of Black hair without apologizing for it. When I was growing up, positive images highlighting people with darker skin and coarser hair textures were few and far between. But I'm slowly realizing that this may not be my daughter's reality.
After we left the theater, Zuri wouldn't stop raving about how the short film had made her feel. Probing further to uncover exactly why my daughter identified with the animated Zuri, I asked her what she loved most about Hair Love. Sitting near her bookshelf in our living room, she said, "It made me and my hair feel really, really special, Mommy. I liked when Zuri tried to do her hair by herself 'cause I know it's not easy."
Trying my best to hold back my own tears when Hair Love ended, my daughter turned to me and said, "I love myself.
In a recent interview with NPR, Cherry speaks to the representation within Hair Love, stating, "You know, when we did this campaign two years ago, there wasn't a lot of representation in animated projects. You know, oftentimes they would cast actors of color but, you know, they'd be playing inanimate objects or animals. And, you know, it was rarely, like, actually seeing a family dynamic in animation." Cherry continues, "I think it does also a lot for young people's confidence when they see themselves represented. You know, media is so powerful. And when you grow up and see magazine covers and TV shows and movies and you don't see yourself represented, but you see every other type of hairstyle represented, you know, that can really affect your self-confidence."
With the influx of Black dolls with natural hair and role models like the fabulous 12-year-old clothing designer, Kheris Rogers, who combats bullying with her "Flexin' In My Complexion" fashion line, young Black girls are seeing more and more positive images of themselves. There is representation that they don't have to search long and hard to find because things are finally being made specifically for them. If Hair Love is any indication of what's to come in media, little Black girls are in perfect hands.
The book, Hair Love, written by Matthew Cherry and illustrated by Vashti Harrison can be purchased here.