The Oscar-Winning Short 'Hair Love' Is Becoming Your Next Must-Watch Series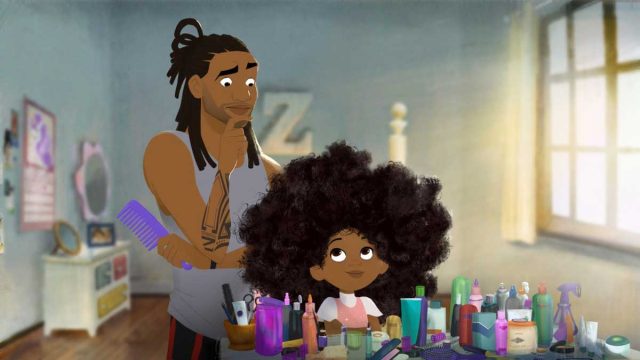 If you were one of the many people (millions, actually) who fell in love with Hair Love during the 2020 awards season, you're in for a treat. HBO Max just ordered a 12-episode series based on the Oscar-winning animated short that follows a Black father learning how to do his daughter's hair.
Writer-director Matthew A. Cherry—who based the short on his own best-selling book of the same name—will act as showrunner for the new series, called Young Love. He's partnering with co-showrunner Carl Jones (Black Dynamite), and the two will write the series alongside Dayna Lynne North (Insecure).
According to The Hollywood Reporter, Young Love will focus on the same family as in Hair Love—father Stephen, mother Angela, and their daughter Zuri (along with their pet cat Rocky)—and follow their ups and downs as a "Black millennial family" with their careers, marriage, parenthood, and social issues.
"I am beyond excited to continue telling the story of Stephen, Angela, and Zuri and further explore the dynamics of a young Black millennial family we established in our short film Hair Love as an animated series," Cherry in a statement, per THR. "Couldn't ask for better partners in Sony Pictures Animation and HBO Max in helping us get Young Love out into the world."
Cherry, a former NFL wide receiver, has been involved in the film and television sphere for nearly a decade. In addition to Hair Love and Young Love, his first feature (The Last Fall) was in 2012, and he has also directed episodes of Black-Ish, Mixed-Ish, The Unicorn, and The Last O.G.
While you're waiting for HBO Max's Young Love, you can watch the full Hair Love short below:
It will be a while before we see Young Love grace the small screen. But while we're waiting, we'll happily watch Hair Love on repeat as we've been doing since December 2019.