These Are the 4 Best Hair Colors Ideas for Brunettes, According to Celebrity Stylists
Sweet cocoa highlights and bold, face-framing strands are in.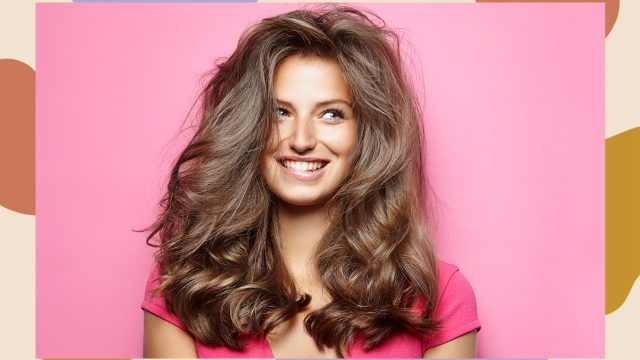 Let's admit it: With everything currently happening in the world, we could really use that wave of dopamine that comes with a hot new hairdo. And by hot new hairdo, we're not talking about a new haircut—we're talking about a new hair color. With winter just around the corner, we want a transformation that's still going to be visible under those 20 layers of winter gear we're going to bundle ourselves in—and we're looking for brunette hair color ideas to switch things up.
And if we're not inspired to change up our hair color in preparation for winter, then we're doing it for that effortlessly stunning, just-casually-answered-this-Zoom-call-without-checking-in-the-mirror-first look. A brunette shade so great it basically comes with a no-styling-required guarantee. Celebrity hairstylist Mark Townsend knows the vibe: "We're mostly only seeing each other through Zoom or FaceTime these days, so it makes sense that women are styling and coloring their hair accordingly."
We've gone ahead and talked to three celebrity hairstylists to get their expert opinions on what will be the best brunette hair color ideas for 2020—and have found that the big color palette for this winter is warm, natural tones. Think: honey, caramel, hot cocoa—sweet and cozy tones that match the season.
1. Deep chestnut brown
Selena Gomez gets her covetable brunette hue from Nikki Lee, celeb hair colorist and owner of Los Angeles-based 901 Salon. According to Lee, rich brunettes are really taking over this fall/winter, and Gomez is the perfect example of deep chestnut tones mixed with cool dark browns.
Feel free to take this photo into the salon with you, but as Lee advises, make sure your stylist picks the right tones for you. So, consult your stylist to see what they think the best tone of brunette is for you. As for the upkeep, Lee also suggests using Garnier Nutrisse Color Reviver Hair Mask to keep the hues looking rich and your locks moisturized. 
2. Warm auburn highlights
If you're looking to up the ante, go for some stunning mulled wine-esque highlights, like Rachel Weisz's at the 2020 Golden Globes. "Adding auburn highlights to brunette hair adds so much dimension and shows hair texture and definition," explains Townsend.
To keep this shade looking fresh, he suggests not washing your hair too frequently. "Washing can strip the dye from the hair and dull the color vibrancy," he explains. When you do wash your hair, Townsend recommends using a sulfate-free formula to prevent color fading. For those days in between washes, he recommends Dove's Refresh + Care Dry Shampoo to keep hair looking fresh and full.
3. Chunky highlights around the face
Another hair color trend Townsend points out is bold, face-framing highlights, like the ones on Blackpink's Jennie Kim and Dua Lipa. This is a great option if you're looking to really switch things up this season. The platinum highlights in the front will add some serious contrast to dark brunette hair.
Wondering how to pull this off? Townsend says it's all about going for it and owning it. "What I've learned during this crazy year of quarantine is that anyone can pull off any look as long as they rock it with confidence."
4. Honey balayage
The best way to brighten up gloomy winter days is by giving your brunette locks a golden honey balayage, according to Matrix celebrity colorist George Papanikolas. To keep the look modern and elevated, he says that the highlights should be pretty balanced throughout the hair, with delicate highlights near the roots softly transitioning and getting heavier at the ends. Doing so will allow naturally dark roots to grow out gracefully and save you visits to the salon.
To neutralize brassy tones (an inevitable effect that comes with dying hair any shade of blonde), Papanikolas recommends using Matrix's Brass Off Blue Shampoo. "This acts like pantyhose over the hair, giving it a sheer, neutralizing effect." And to keep color-treated hair from drying out? Papanikolas says to incorporate a weekly hydrating hair mask into your routine, such as the brand's Biolage Hydrasource Mask.