Sister act Haim made a film with Paul Thomas Anderson, and they're screening it for lucky fans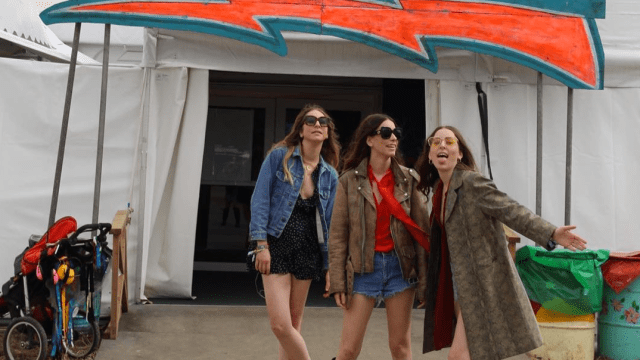 It feels like it's been a thousand years since Haim released debut album Days Are Gone. But that instant classic only dropped four years ago. It's still a release to know that the sisters have a sophomore album up their sleeve, and it's almost here. Something to Tell You still doesn't drop for a week, but the band has another treat for super fans.
The band teamed up with director Paul Thomas Anderson for an intimate behind-the-scenes film look at their process.
Valentine is, true to the name, a kind of heartfelt gift to patient and devoted fans. Shot in 35 mm, it's a glimpse into the nuts and bolts of the band's album process. The film is going to get a screening in New York City, but of course, there is a catch. This is the kind of event that could easily sell out, but the band is instead holding a fan lottery for attendees. (The nicest part is probably that winners automatically have a +1.)
https://www.instagram.com/p/BV-0jSylnEG
That entire Valentine night seems like the Haim super fan experience in full. Afterward, the trio will be part of a Q&A, and then they'll stream their new album. Oh, and this is all happening just two days before the day the album actually comes out. If you're in NYC, a Haim fan for real, and lucky, there is nowhere better for you to be on July 5.