Hailey Bieber Makes a Plea to Selena Gomez After Getting Death Threats
The pop star put a message out to fans on Instagram after weeks of TikTok fan drama.
Selena Gomez is calling for peace — immediately.
The Only Murders in the Building star addressed fans directly this morning via her Instagram Story, asking for a cease-fire following a startling chat with Hailey Bieber, during which the Rhode Skin founder revealed her inbox of disturbing death threats.
"Hailey Bieber reached out to me and let me know that she has been receiving death threats and such hateful negativity," Gomez wrote on her Story. "This isn't what I stand for. No one should have to experience hate or bullying. I've always advocated for kindness and really want this all to stop."
She ended her note with a red heart emoji.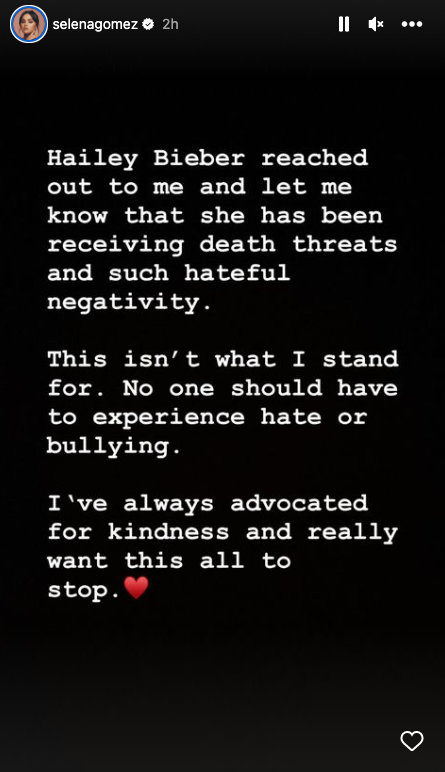 RELATED: "F Hailey Bieber!" Justin Bieber Fans Chant at His Own Concert
This isn't the first time Justin Bieber's wife has been the target of hateful messaging online, especially at the expense of Gomez's massive fanbase. However, their alleged feud — which was rumored to be squashed back in October – has reached an unsettling height in recent weeks.
According to fan theories, Gomez was forced to come to her BFF Taylor Swift's defense when an old video of Hailey seemingly dissing the "All Too Well" singer went viral. Then fans thought Hailey was taking aim at Gomez when she and Kylie Jenner "mocked" Gomez's over-laminated eyebrows.
This theory has since been debunked by Gomez herself, who gave Kylie Cosmetics a glowing review on TikTok. However, some think Jenner was jealous that Gomez kicked her out of her Queen Bee spot as Instagram's most followed woman.
All of this was then followed by Gomez announcing she was taking a hiatus from social media due to drama.
However, she has since returned with a stern message for fans: "This isn't what I stand for."
Emily is a NYC-based freelance entertainment and lifestyle writer — though, she'll never pass up the opportunity to talk about women's health and sports (she thrives during the Olympics).
Read more