Hailey Bieber opened up about her most meaningful tattoo—and the ones she's saving space for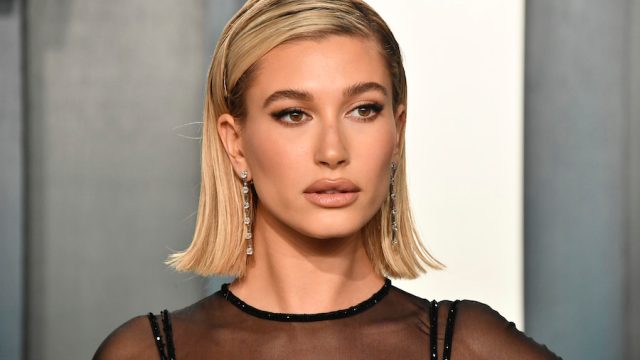 Hailey Bieber is a huge fan of tiny tattoos. She has more than 20 teeny-tiny tats scattered across her body, so if you're not looking closely, you may miss that she has any ink at all. In a recent interview, she revealed which of these micro-art pieces means the most to her, and how she's saving space for more important tattoos to come.
"I have my parents' wedding date tattooed on me," she told PopSugar. "That was the first tattoo I ever got, and I would say probably in terms of being meaningful, that would be the most meaningful one that I have."
Bieber's first-ever and most meaningful tattoo runs along the side of her wrist on her left arm. With the roman numerals "VI," "X," and "XC," the ink represents the date June 10th, 1990, when her parents got married. But the tattoo wasn't just a sweet tribute, Bieber said in a since-deleted Instagram story that it was also a sneaky way to keep her parents from getting mad about her first tat writing that she "figured they'd be less mad if it was an ode to them."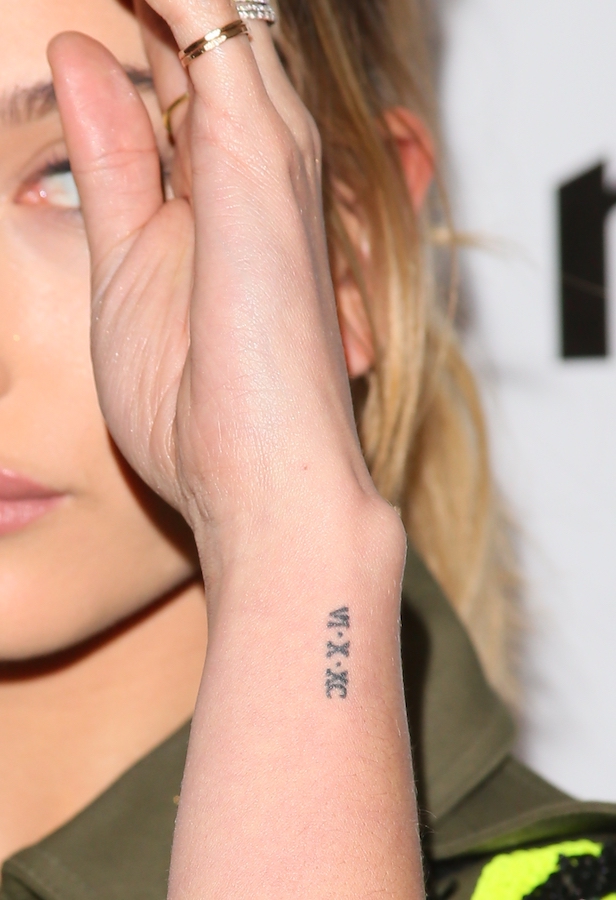 As far as adding to her collection, Bieber seems to be holding off for more family-oriented tats when the time is right.
"There are so many more [tattoos] I know I want to do in life," she told PopSugar. "Right now, I'm saving space to get something that has to do with my kids in the future."
Until then, the model has plenty of tiny tattoos to serve as inspo for that low-commitment ink job you've been considering.
1A "g" for Georgia
Bieber shared a photo of a cursive lowercase "g" tattoo behind her left ear writing, "G for Georgia." The tattoo is a tribute to Georgia Veach, the daughter of Hollywood-known pastor Chad Veach, who was diagnosed with a rare, incurable brain disorder.
2A matching broken hearts
To mark the friendship of "Hails n Kenny," Bieber got a matching broken heart tattoo with bestie Kendall Jenner in August of 2015. Jenner got hers in white ink while Bieber opted for red.
3A tiny star
This dainty star tattoo would be an adorable choice for anyone who's thinking about dipping their toes into the world of tiny tattoos. Bieber got this tat back in August of 2016.
4The word "pray"
Bieber also has a variety of tiny tats that represent her faith. In addition to the word "seek" along the spine of her neck, and the numbers "3:30" on her right hand, which represent Bible verses, Bieber has the letters "pr" and "ay" on the sides of her pointer fingers to spell "pray" when her hands are together in the prayer position. To add another layer of sentiment, her BFF Jenner created the design for this one.
5A diamond
Diamonds are a tiny tattoo lover's best friend. Bieber reportedly skipped the 2019 Oscars to get this ink on her neck.
6A celestial mix
Bieber's hands get the most tattoo love. In addition to a cursive uppercase "B" that could represent either of her last names (Bieber or Baldwin), she also has a celestial array of delicate stars, a half moon, and abstract designs to decorate her fingers. (And for the record, she also has Baldwin tattooed on her finger. It's matching ink with her cousin Ireland Basinger Baldwin.)
7"Lover" in script
In September, Bieber visited celebrity tattoo artist Dr. Woo (not her usual fave, JonBoy) to get a delicate script tattoo on her neck of the word "lover." It appears right below a tattooed cross, and it definitely got Taylor Swift fans talking.
We'll have to see if Bieber has any more plans to visit her favorite celebrity tattoo artists in the near future, or if she holds space for even more meaningful tattoos if she becomes a mom as she plans.