Hailey Bieber debuted a brunette bob, and it made us do a double-take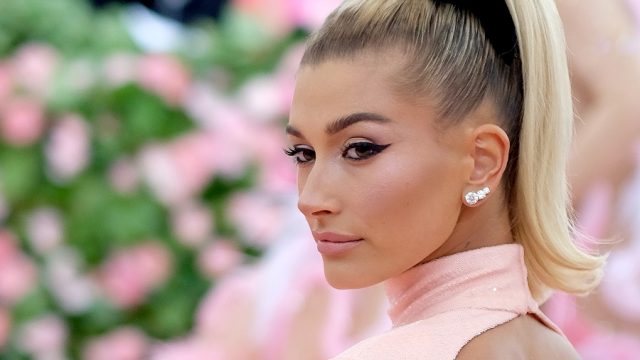 Even though she's experimented with other colors, Hailey Bieber usually sports her signature shade of honey blonde hair. Sometimes, however, she shocks us with a drastic hair change, and you might not even recognize her with this brand new look.
Over the years, she's tried out some cool, trendy colors—from the time she sported gray hair to the many times she's rocked a bold bubblegum pink shade—giving us endless hair color inspo. But she just showed off her most unexpected look yet: a chocolate brown bob. There's a 100% chance you will do a double-take when you see it.
Bieber posed for Interview magazine's "playing dress-up" feature, and in many of the shots, her glossy, blonde waves are firmly in tow. But in a couple of the photos, she's wearing a dark brunette bob, serving us Brat Pack, cool girl vibes.
For reference, here's the most recent look Bieber was sporting on Instagram: long, bouncy blonde waves during a trip to Tokyo.
https://www.instagram.com/p/B1CIm1VFveG
And here's her shoulder-length blonde lob in the shoot, before she tried on the epic brunette wig.
https://www.instagram.com/p/B1Jut6uFMqD
Finally, here's her sleek, chin-grazing brunette bob, which gives us vintage vibes galore.
https://www.instagram.com/p/B1Ju_BRFeqC
Of course, we think the short brown hair was just a wig for the shoot, but based on the comments on her post, it seems like her followers are loving the switch-up. Maybe she'll decide to actually take the plunge and go for a sleek chestnut bob, and if she does, we fully support it. We know she looks fabulous no matter what she tries, and we're eternally grateful for the endless hair inspiration she brings us with each new look.