Hailey Baldwin's intense pink eyeshadow is surprisingly easy to recreate, and here's how to do it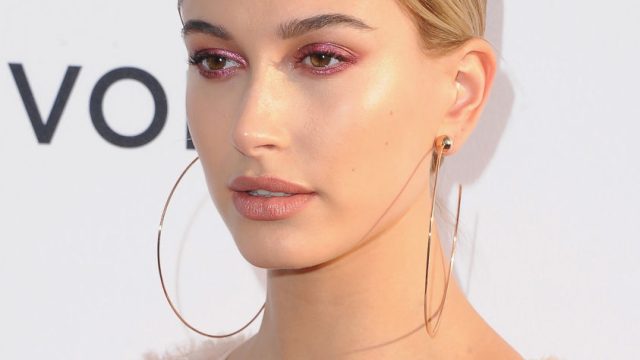 Is it just us, or is Hailey Baldwin's pink eyeshadow giving you ~major~ makeup envy? While we often pine over supermodel makeup that's too tricky for the average beauty buff to try at home, Hailey's makeup artist is giving us a little Monday treat here. As in, she's breaking down exactly how she crafted the 20-year-old model's drool-worthy beauty look from the Daily Front Row Awards over the weekend.
Now, don't be fooled — this seemingly complicated shadow is a total breeze to recreate with the right products in hand. So whip out your pens and take notes, because you're going to want need to try this out yourselves.
To create the smokey bubblegum look, celebrity makeup artist Sarah Nicole Tanno relied on not one but *two* pretty shades. Opting for Marc Jacobs' Highliner Gel Crayon in Fine Wine and Marc Jacobs' Twinkle Pop shadow stick in Leia, she blended the two shades heavily under Hailey's eyes. She then worked her way upwards, lining the top of the eye with the gel crayon and overfilling the lid out into a smudged cat eye using the shadow stick.
A thick coat of Marc Jacobs' Velvet Noir Mascara finished the punchy pink look.
With potent eye makeup like that, there was no need for any competing lip color or vibrant contour. Instead, Sarah finished the look by giving the model a gorgeous fresh-faced glow, full brows and a pretty pink-mauve lip color that perfectly complimented the eyeshadow.
Now, intense pink shadow may not be for the faint of heart. But if Hailey Baldwin can make it look so ~dayum~ effortless, then it's definitely worth a shot for any zealous beauty makeup lover!