Hailey Baldwin just defined her/Bieber's relationship for everyone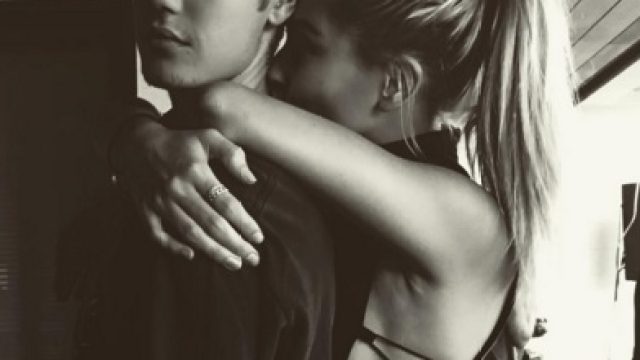 Being young, beautiful, famous, and successful obviously has its perks – especially when you're as poised and well-spoken as Hailey Baldwin, the daughter of actor Stephen Baldwin and niece of 30 Rock funny man Alec Baldwin. But it also has its drawbacks — like everyone wanting to be all up in your business.
But luckily for us, Baldwin is more than happy to shine a little light on the situation between herself and one Justin Bieber (maybe you've heard of him?) — a relationship that has generated a lot of buzz since the pair was seen vacationing together recently over the New Year's holiday.
"We are not an exclusive couple. He's about to go on tour," Baldwin told E! News this past Tuesday at the amFAR New York Gala. "Relationships at this age are already complicated, but I don't really like to talk about it because it's between me and him."
Hear hear, girl. It's so refreshing to hear someone who is probably bombarded constantly for information about her personal life give such an honest, succinct, and reasonable response about how 1.) Relationships are hard no matter who you are, and 2.) It's no one else's business. Baldwin, who has known Bieber since 2009 (when she was 13) and also spent Super Bowl weekend with him, went on to discuss her support of his new GQ cover and interview – in which he says of Baldwin, "[She's] someone I really love. We spend a lot of time together." "I think it's awesome," she told E! News, adding that Bieber looked handsome in the shoot (we totally agree). "It wasn't a surprise to me. I knew it was coming out…we have just stayed close, and there's nothing more to it than that." The successful model, whose dad Stephen gave similar comments about his daughter and Biebs when asked about it last month, also got super real with E! News about how difficult (but important) it is to keep your personal life private when you're constantly in the public eye. "I am very open on social media, but that's why I don't like to talk about certain things. It really is my personal business," she added. "And I like to think my relationships are not between me the person and the whole entire world. It's hard."
We respect Baldwin for answering these types of questions (which she doesn't have to answer at all) with such grace and honesty, and are starry-eyed over how sweet and close her and Bieber's relationship is, however they define it. More cute Insta shots from these two, please – maybe Baldwin will make an appearance at a few of Bieber's world-tour shows?