Hailee Steinfeld sang a ridiculous version of Katy Perry's "Firework," and watching is a Friday necessity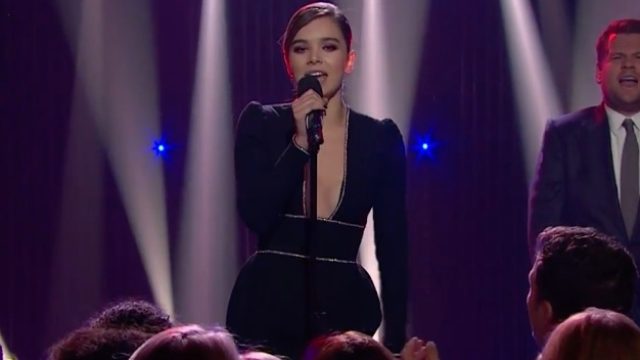 Given the weight of all the political news this week, we're in need of something awe-inspiring that also makes us laugh bucketloads, right?
So, Hailee Steinfeld sang just the first line of "Firework" in "First Line, Every Line," with James Corden. It's a game in which you sing the first line of a song…for the entire song. And it's WAY better than it sounds.
It's not surprising that this is our everything, because everything Corden does is basically hilarious perfection. Earlier this week he acted like a baby while Benedict Cumberbatch narrated an election story, which was almost as hysterical as when he played all the Spice Girls in an Apple ad. And this new clip is brilliant, because as Corden points out, everyone knows that the first line of every song is the best? RIGHT?! (Hint: WRONG! And that's why this is so freaking funny).
https://www.youtube.com/watch?v=IyRY2GHIcS0?feature=oembed
OMG! It's genuinely amazing how Steinfeld actually made the song work using only that first, kinda bizarre line ("Do you ever feel like a plastic bag?). Katy Perry were you watching?! And we wouldn't expect anything less from Steinfeld, since she has officially branched into music and perfectly covered Justin Bieber's "Love Yourself." Multi-talented to boot, love it!
After Steinfeld's performance, Corden tackled Adele's "Someone Like You," where the first line is "I heard that you're settled down." Turns out he's pretty good at this game too!
This was a total slam dunk, and HAPPIEST OF FRIDAYS TO YOU.
P.S. We're definitely gonna be singing about plastic bags for the rest of the day.