Hailee Steinfeld gave us the best advice on fitness, bullying, and being a badass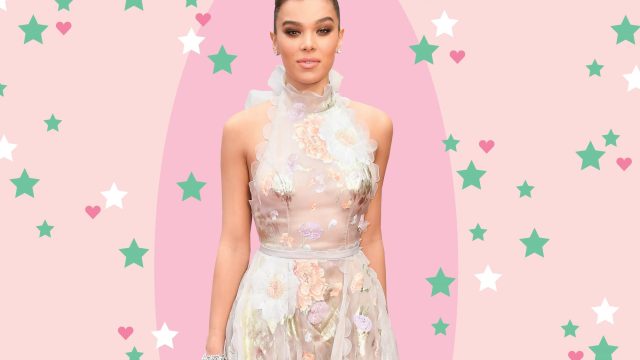 At age 14, Hailee Steinfeld starred opposite Jeff Bridges (*the* Dude) in True Grit, which led to her being nominated for a Best Supporting Actress Academy Award. When she was 15, Hailee took on the iconic role as Juliet, and all the pressure that comes with it, while remaking Romeo and Juliet. Two years later, the actress joined the Pitch Perfect franchise and also snagged a role in the music video seen 'round the world: Taylor Swift's "Bad Blood." Just last year, Hailee was nominated for the Best Actress in a Motion Picture – Comedy or Musical Golden Globe, for her work in The Edge of Seventeen.
Hailee Steinfeld is now 20 years old. You've likely heard her voice on the radio, have seen her chameleon-like acting abilities in theaters, and have also witnessed her kill it on the red carpet. Adding to her already impressive resume, Hailee is now the face of MISSION's female athletic apparel. To celebrate this news, I was invited to interview Hailee before joining her in a workout class run by Amy Allen, her choreographer.
Despite all her accomplishments, Hailee reminded me of those I consider to be close friends. Though I was interviewing her, it didn't feel that way. It instead felt as if I was having a conversation with someone who genuinely wanted to connect. Hailee brought to mind friends who truly believe in the power of what they have to say.
HelloGiggles: What made you want to partner with MISSION?
Hailee Steinfeld: Oh my goodness, where do I begin? I was introduced to MISSION's cooling towels backstage at a show forever ago. Then, I heard recently that they were working on workout apparel for women, and I was super excited about it. I tried a few pieces and loved them, and that's where it started.
HG: Aside from athletic apparel, what are some other things you want to have by your side when you're working out
HS: A great playlist, some water, and a cooling towel.
HG: What's on your workout playlist right now?
HS: I actually listened to today's Top Hits on Spotify. That's kind of my go-to. I don't have a specific [soundtrack], I'm always changing it. Especially if I am doing the same workout, I don't like to listen to the same music. I like to spice it up a little bit. I don't really have anything specific, but any Bruno Mars, or Beyoncé, Eminem-type — that's sort of the workout [music I listen to].
HG: Do you have any drugstore beauty products you can't live without?
HS: I feel like, whenever I forget something, I'll run into a drugstore and I'll pick up either a great waterproof mascara; there are surprisingly some decent brushes, like beauty blender sponges, which I love; and I'm a sucker for any of those facial mists. Anywhere I can pick those up, I'm good.
HG: I read that you were bullied when you were in school. If you could go back to this time and tell yourself one thing, what would it be?
HS: Funny enough, what I think all our parents tell us. It will pass and it's a moment in time, and soon you will look back on it and think, "How and why was I upset about something like this?" It's so funny because no matter how old you are, or where you're from, or what you do, or where you are — whether it's at school, or at work, or at the bus station — it's kind of always gonna happen. Everywhere and whenever.
And I guess you just have to know who you are, what your morals are, what makes you happy, and what makes you feel good about you. Spread that love and positivity, and know that it's not only you.
"I think a lot of us tend to feel like we're the only person in the world that's ever been hurt when we're in that sort of situation, but know that you're not alone. And it'll pass."
HG: What can we expect to see from you in the future?
HS: Well, I have more music coming out a lot sooner than everybody thinks, which I'm very excited about. I have a single dropping very soon that I'm really proud of, and I think it's really a song of right now, and it has a lot to do with sort of what's going on in the world with women. It speaks to how awesome we all are. I'm very excited for people to hear that.
And Pitch Perfect 3 comes out in December, which is very exciting. And this partnership with MISSION is happening in full effect and I'm very excited about that as well.
HG: What advice would you give to women who want to be doing what you're doing?
HS:
"Don't ever doubt yourself and don't let anybody ever make you feel like you can't, because you can."
I'm just such a firm believer in, if it's something you love and are passionate about, then there's no other option than to stop at nothing to do it.