Hailee Steinfeld talks about her go-to workout for stress relief and the secret to her brows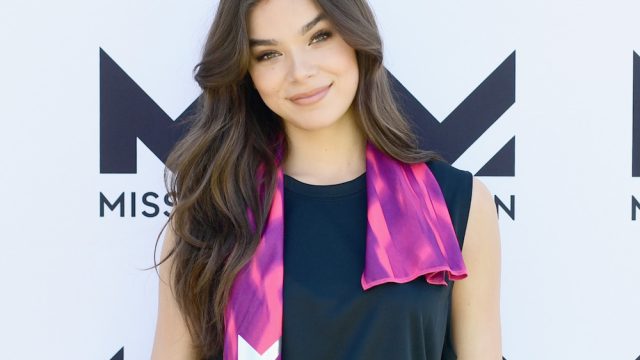 Actress, pop star, and all-around badass Hailee Steinfeld is constantly in motion. From her breakout, Oscar-nominated role in True Grit at age 13 to her first single, "Love Myself," she's proven to be an unstoppable force of nature. HelloGiggles caught up with Hailee at a special event hosted by athletic apparel brand Mission, featuring a workout class from Hailee's personal trainer and father Pete Steinfeld. The singer's dad helps her prep for stage performances so she can be her best while singing and dancing, and we had the opportunity to try her high-intensity, pre-tour workout.
When I received the invite to the class, I was slightly intimidated. I almost never exercise and actually considered feigning an injury in order to simply spectate post-interview. I came to the session dressed in health-goth athleisure wear (slightly brutal in the Beverly Hills sunshine). We assembled poolside on our mats, and after demonstrations by Hailee and Pete, did jumping jacks, mountain climbers, crunches, and some kickboxing moves. What better way to get to know a celebrity than physically putting yourself through their intense exercise regime?
After the workout, Hailee spoke to HelloGiggles about fitness, her upcoming TV show, and those incredible brows.
HelloGiggles: What is your go-to workout when you're stressed or need to expel some energy?
Hailee Steinfeld: A run. Just going for a run and getting fresh air, even if it's a walk. 90% of the time I can't work out unless I have music. And that 10% or maybe even 5% is when I just need fresh air, silence, or the birds and everything nature.
HG: Let's talk about your work with Mission and the new collection.
HS: We're launching the new Max accessories collection. Each product has this HydroActive cooling mechanism, and what's great about it is you could dunk it in ice cold water and put it around your head, and you will stay cool for hours. It's great to have these or the towels, especially when I'm on stage and have 30 seconds in between a song. Just wrap it around your wrist or your neck and it instantly cools you down. My dancers are obsessed with it.
HG: Can you tell us about your eyebrows? What is your secret to keeping them full?
HS: For my whole life, I have been told by almost everyone I've ever encountered not to touch my brows, so I really haven't done much. There's the occasional cleanup I've got to do, and sometimes I'll fill them in lightly. I don't love going too dark. Every day I'll lightly pencil them in and add a little bit of brow gel. Charlotte Tilbury has this amazing — I can't remember the name of it right now — it has the color and the fill-in brush, and underneath there's this little highlight situation that you can use under the brow. It's an all-in-one and it hasn't left my purse since I got it.
HG: Are there any other beauty products that don't leave your bag?
HS: I'm always trying new moisturizers. That's the base for everything, and I love a good under-eye cream. My everyday sort of thing is another Charlotte Tilbury product. It's a bronzer and highlighter in one palette. I'll lightly brush the bronzer over my eyelids, smudge it a little darker into my lash line, and add mascara, a little bit of highlight, bronzer, and call it a day. I like to keep it pretty simple.
HG: What inspires you musically? Who are your favorite musicians?
HS: I find there are different artists that inspire me in different ways, whether it's their writing style, or sonically, or visually. To name a few, Bruno Mars, Rihanna, Ed Sheeran, and Adele. It's fun to be in the writing process for my own projects and reference songs, artists, or groups I grew up listening to on the classic rock side or the R&B side. Music's awesome and there's so much to it!
HG: What music projects are you working on right now?
HS: I've been working on it for a while, and it's funny because this is kind of my first real go at this, and I think I've been putting this pressure on myself of, "you've gotta have new music out tomorrow or yesterday." I realize that some of my favorite artists take four years to make an album and I get why they do that now. I think for a couple months I was kind of like, "I don't understand why this is taking me so long." It's a real process of discovery and self-realization and just processing everything in my life. There's a lot I feel I can talk about and I need time to do that so I've gotten over the, "you gotta hurry up." And I'm more, "give yourself the time and make it how you want it."
I have a new song out right now with the artist MNEK called "Colour." That's something I'm really proud to be a part of. He's one of my favorite writers and has a way with words, and this song is powerful and positive and really fun to sing. I look forward to performing it.
HG: Do you feel like the process is really different from making TV and movies?
HS: From what I'm used to with a movie, I will take as much time in advance as I can. Sometimes the project will come along and will only allow a couple of weeks of preparation time. But if I could have two to three months to dive into a script and a character and really figure out what I wanna do with it, that's what I do. I get on set the first day and I forget everything and go for it. Once you make the movie it gets to the point where it's completely out of your hands, and then you pray that the edit is good. With the music, it never stops. You see everything through from start to finish and that's amazing, but also terrible at the same time. Because I am used to getting to that point where it's like "go for it, take it, I did my job," and it's like I did my job and I've still got to!
HG: And you're going on tour?
HS: I'm opening for Katy Perry on the Witness tour for three weeks. I come back to L.A. for a couple of days and head out with Charlie Puth for the rest of the summer.
HG: You've also got an Emily Dickinson TV comedy coming.
HS: This will actually be my first time jumping in the TV world, which is something I've been very curious about for the last couple of years. Apple is launching this show, and it will be one of the first shows they're doing. There's a lot of twists and turns with this story, a lot of the writing is so witty and so smart and I'm really excited to tackle this one. I think it's going to be a good time. I'm really excited to re-tell her story in a modern way for my generation.
HG: What do you do in your downtime, if you have any?
HS: I'm wanting to make it my goal this time around on tour to really go see the cities that I'm in. It's so easy to sleep the days away. Honestly, my off time consists of food and couches and TV, but I'm really looking forward to getting out there and learning about where I am.
HG: A lot of your work has to do with empowerment, feminism, and sexuality. How did you come to your own personal place of empowerment?
HS: It's a number of things, I think my fans have a lot to do with it as well. I released my very first single "Love Myself" and I had no idea that would do what it did in terms of connecting me with people, with girls all around the world. Suddenly I was getting thank you messages. I like to think of myself as a confident, positive person, but that's not 100% of the time. I thought if I could share a positive experience and make people feel good, there's no way I'm stopping that, you know?
When "Most Girls" came around, I felt like there's a golden standard that in order to be special you have to be so different from any other female. And I just don't feel like that's the case, especially now. This is where we have to band together and support each other and lift each other up. To be honest, I can't tell you the amount of time I spend scrolling through Instagram saving photos being like, "she's gorgeous, she's beautiful," and there's nothing wrong with wanting to be like what you see in other women. And that's what "Most Girls" is. It's also about not feeling guilty if you want to change something about yourself, about your features or anything physical, whatever you want. There's no one but you that should be in control of that.
Catch Hailee Steinfeld on tour this summer, and shop the Mission MAX Cooling Collection on Mission.com.