I use this brightening serum on my sensitive skin and it's never looked healthier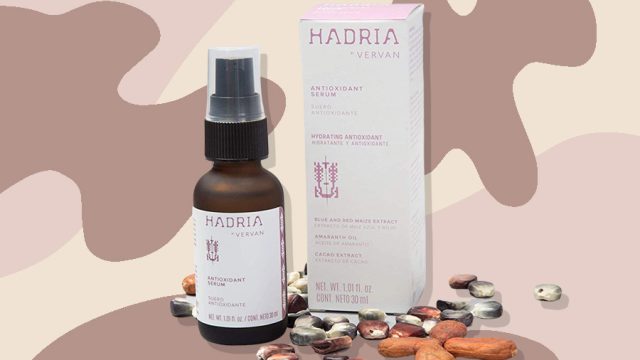 I've flown through my fair share of skincare products over the years, hoping at least one would give me glorious-looking skin. And when that didn't come to fruition, I went through even more makeup products to cover what was clearly the result of harsh, irritating ingredients. My sensitive skin was mad at me, and I was practically throwing things at the wall to see if something would stick (my skin being the wall here). After a few years of searching for a solid skin care routine, I think I've finally found it. And of that routine, one key component in particular deserves a nod: a brightening serum that has really contributed to my newfound skin confidence and made it so that I no longer need a full face of foundation every morning. 
From Mexican brand Vernan Skin Essentials comes the Hadria By Vernan Antioxidant Brightening Serum. Formulated with superstar ingredients like ferulic acid (hello, anti-aging), squalene for plump hydration, cacao, and blue and red maize extract, this serum can be applied daily to even the most sensitive skin for a radiant complexion. Each bottle is hand-crafted with quality Mexican plants and the natural serum is paraben-free, prepared without mineral oils, and created with low environmental impact. 
I apply about one to two pumps before bed every night and truly admire how lightweight and silky it feels sinking into my skin. Its oxidative stress-fighting ability is an extra bonus, keeping environmental oxidation in check. And for those with an array of skin problems, this serum aims to target more than just antioxidant issues and brightening—it will dive deep into your pores to heal acne, firm tired, sagging skin, and will even protect against UV damage with its photoprotective element. 
I could talk day to night about my joy of stumbling upon this serum, especially since the one-ounce bottle has lasted me for nearly a year, but I'll leave it here. If you're still on the hunt for a high-quality multipurpose serum to give you that natural glow, I suggest you give this one a chance. 
Shop it! $48.99, amazon.com.