Gwyneth Paltrow Says Working with Harvey Weinstein Made Her Question If Acting "Was Really My Calling"
She also cited "intense public scrutiny" as the reason she stopped starring in lead roles.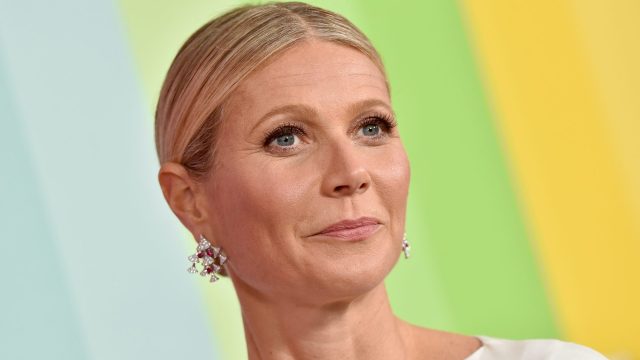 In a recent interview on SiriusXM's Quarantined with Bruce, Gwyneth Paltrow opened up about the reason she stopped acting. The Goop entrepreneur said she realized in her mid-twenties that she didn't "love acting that much as it turns out," pointing to "intense public scrutiny" and working with convicted rapist Harvey Weinstein as what brought her to this realization.
Paltrow's love for acting began to diminish when was about 26, shortly after her Oscar win for Shakespeare in Love, which Weinstein produced. It wasn't that she felt like acting wasn't worth doing, she explained, but, I sort of felt like, 'well, now who am I supposed to be, like what am I driving towards?'
The Oscar winner also explained that "part of the shine of acting wore off" when she was felt she was being constantly watched by the media. "Being a kid who's living every breakup on every headline, being criticized for everything you do say and wear," Paltrow continued, was incredibly difficult. "And also, it's so transitory, you're always all over. It's hard to plant roots."
Describing herself as "such a homebody," Paltrow would much rather "be with my old friends and cook and squeeze my kids" than "be alone in a hotel room in Budapest for six weeks" filming. "Like it's just not who I am," she said.
Compound that with her experience working with Weinstein, who she has accused of sexual harassment, and the entertainment industry wasn't a sustainable choice for her.
To be totally candid, I had a really rough boss for most of my movie career at Miramax, she said of the disgraced producer. Like, so you take all those things [and] you're like, 'I don't know if this is really my calling.'
It wasn't until 2004 when Paltrow finally decided she was done. "I was like, 'I've had it. I can't do this anymore,'" Paltrow said, per People, saying her last lead role was in the movie Proof, which she filmed when she was pregnant with her daughter Apple. "I had morning sickness and I was dying, and I had these five-page monologues. So when I had [Apple], I knew I was going to take a big chunk of time off. And I've never starred in anything again."
Though we miss seeing her as the leading lady in new films, her reason for stepping away from the camera is totally fair. The smaller roles she takes, like Pepper Potts in the Iron Man franchise, are definitely enough to keep us happy.