Gwyneth Paltrow's wedding photos are here, and we were not expecting this dress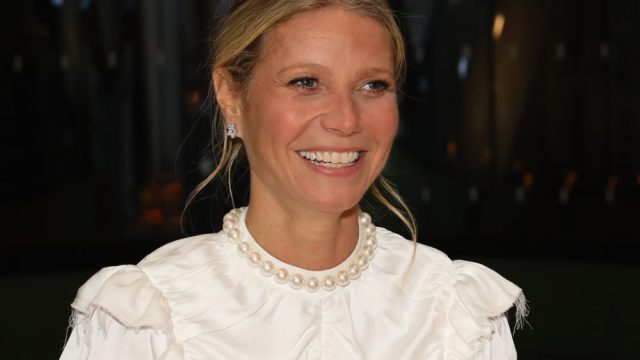 Gwyneth Paltrow has released 47 photos from her September 29th, 2018 wedding to Brad Falchuk, and while the wedding itself was the Goopiest thing we've ever witnessed, we're actually surprised by her wedding gown, which Goop called "a dress that defies adjectives."
We expected Paltrow to wear something similar to the Tom Ford white cape gown she wore to the 2012 Oscars. You know, clean lines, almost royal-inspired. But Paltrow's actual Valentino Couture wedding dress was whimsical and floral and totally unexpected. We should note, however, that she did change into a short Stella McCartney jumpsuit with a cape for the reception.
Aside from the whimsical dress, everything else about her Hampton's wedding was right out of the Goop handbook. For example, her daughter and another bridesmaid wore matching strapless Monique Lhuillier wedding gowns of their own, each guest got their own individual wedding cake, and Girl Talk—the mashup-expert and your college music fave—provided the music.
https://www.instagram.com/p/BoXN0C4HySw
For the rehearsal dinner, they roasted chicken over an outdoor spit and cooked root vegetables in an underground pit. You can get the actual recipe on Goop.com and recreate Paltrow's rehearsal dinner vegetables at home if you have time to dig a two-foot-deep ditch in your yard.
https://www.instagram.com/p/BprmEcpl-V4
Wedding guests included: Cameron Diaz, Rob Lowe, Ryan Murphy, Robert Downey Jr., and Steven Spielberg holding a camcorder. Did Spielberg direct her wedding video? Honestly, that tracks.
The best thing to come out of this wedding album is the reveal that Paltrow and Falchuk's new couple name is "The Faltrows." We're not sure if they are going to use that legally, but when you're Gwyneth freakin' Paltrow, you do whatever you want.
You can see all of Paltrow's Pinterest-worthy wedding photos over at Goop.