Gwen Stefani shared her thoughts on dating "People's" Sexiest Man Alive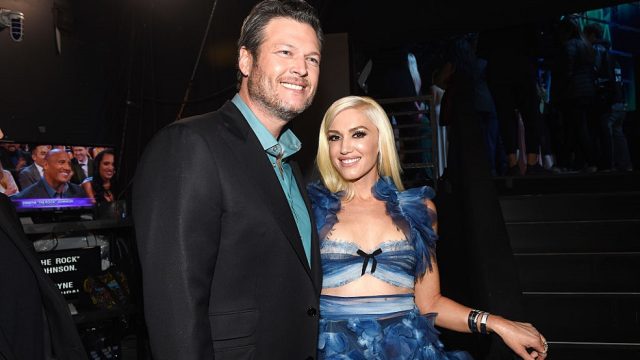 In case you haven't heard, Blake Shelton was just named People's Sexiest Man Alive — and of course, girlfriend Gwen Stefani has some thoughts on the title. Shelton and Stefani found each other while working on The Voice. After both of them went through very public breakups with their spouses (Stefani was officially married to Gavin Rossdale for 14 years and Shelton was married to singer Miranda Lambert from 2011 to 2015) they managed to connect and find something truly special.
A few months after they both announced their marital struggles, Stefani appeared on On Air With Ryan Seacrest and said that  "To be super honest, it is kind of crazy we both went through the same thing at the same time." According to Entertainment Tonight, they announced that they were officially together just one day later.
At this point, they've done so much together. The two recently did a duet called "You Make It Feel Like Christmas" for Stefani's upcoming Christmas album, and according to Shelton himself, Stefani helped encourage him to embrace the honor of being People's Sexiest Man Alive this year. The star said that Stefani told him "you're going to regret this for the rest of your life if you don't take this gift and just live in the moment," so that's exactly what he did.
Stefani was quick to comment about her boyfriend being featured as People's latest cover story, and of course, she was nothing but positive.
"I knew I was on to something," she said to Access Hollywood shortly before Shelton was officially announced. "Wow, I'm gonna look really good huh? I already had scored but now I really scored."
https://www.youtube.com/watch?v=g0K5QoEj7FQ?feature=oembed
She went on to tell People that he was pretty perfect for the spot.
"Somebody that is funny and has a sense of humor is sexy — that's the No. 1 thing," she said.
Their love is definitely genuine — just ask The Voice co-star Adam Levine.
"They're so in love it's disgusting," Levine said on The Howard Stern Show. "It's so funny. They found each other at really interesting times in their lives. It's really beautiful."
We wish nothing but happiness ahead for the two of them — and we agree with Stefani. We think People made a pretty good call this year.