Gwen Stefani just told us that her new song is absolutely about Blake Shelton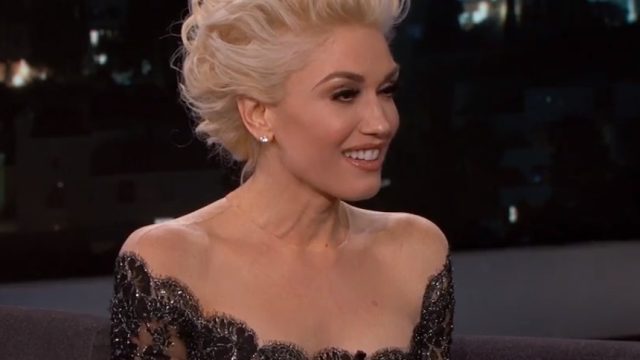 We've already pretty much decided that Gwen Stefani and Blake Shelton are the cutest couple ever. I mean, they FaceTime each other from Disneyland. Like, come ON, that's cute. But now, Blake's not only Gwen's boo — he's her muse, too.
On Jimmy Kimmel Live last night, Gwen admitted to Jimmy that her latest single, "Make Me Like You," is about her new love. TBH, we had a feeling — after all, the lyrics are "Why'd you have to go and make me like you? / I'm so mad at you 'cause now you got me missing you."
The Internet has been a-buzz over the song since Gwen did something no artist has ever done before — she filmed the whole music video during a commercial break at the Grammys and somehow absolutely, 100% killed it. And most were pretty sure it was about Blake — after all, he kind of makes a cameo in the video — but Gwen just confirmed it with Jimmy, saying, "I will admit, that song is about that guy."
Referencing her divorce from Gavin Rossdale before she started dating Blake, she explained, "What's so crazy is sometimes tragedy, if you really absorb it, you can turn it into something beautiful. And this whole album is really about just trying to take something that was awful and… healing from it. And then turning it into something beautiful."
Oh Gwen, you're an inspiration. You just make us like you. Check out the full clip below and listen to Gwen chat to Jimmy about her latest single.
https://www.youtube.com/watch?v=MqQi4Y9mSVI