Gwen Stefani, Blake Shelton, Adam Levine and Behati Prinsloo just posed for the most epic of selfies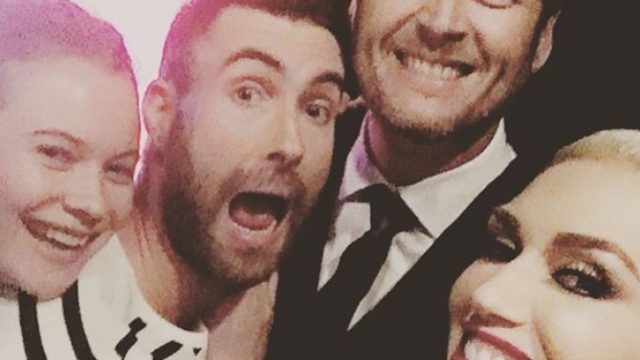 NBC's The Voice has been good for a few things, including a storybook romance between No Doubt frontwoman Gwen Stefani and country music star Blake Shelton, and as a platform for Adam Levine's devilishly handsome good looks.
What's more, it looks like The Voice hosts are actually good friends. On Thursday night, Stefani shared an adorable picture of Shelton and herself hanging out backstage at The Voice with Levine and his wife, Behati Prinsloo. So many talented humans, all in one place.
Of course, leave it to Levine to ham up perfectly sweet smiling selfies! Other than his goofy face, however, this snap seems to truly reveal some friendship between the foursome. Minus the perfect makeup and music star/fashion model looks, they could easily be any two BFF couples!
The selfie is the perfect memory from a very moving night on the show: It was taken the same night that Stefani and Shelton performed their new duet "Go Ahead And Break My Heart" as a testament to their now fully-in-bloom relationship. Some folks will remember that the two came together shortly after Stefani ended things with Gavin Rossdale, her husband of 13 years, and father to her three sons. 
As for Levine and Prinsloo, they'll soon be parents to a bouncing baby, making them both first time parents. Sources suggest that their upcoming bundle of joy will be a baby girl, but we bet that, like most parents, they're just hoping for happy and healthy. The couple met at the Victoria's Secret Fashion Show back in 2011, and tied the knot in 2013.
Looks like it's all good times and awesome selfies over at The Voice.