This guy's winged eyeliner look is so extra, it puts all our cat-eyes to shame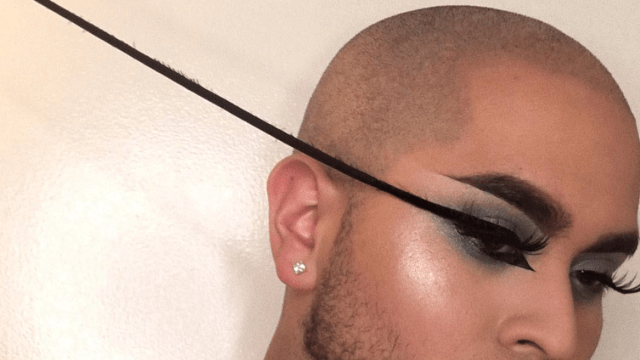 For many of us makeup-loving and wearing humans, winged eyeliner is the holy grail. The perfect cat-eye can transform our look from normal and unassuming to femme fatale ready to save the world, clad in black leather and red lipstick. The only difficult part of the winged eyeliner is the process of getting it just right, and you know, making sure both eyes are even.
The length and shape of the cat-eye depends on your personal preferences, but if you're in the camp of "go big or go home," may we introduce your new icon?
https://www.instagram.com/p/BQuRfFoF92k
These are too good to be true! Just look at that precision, that line, that technique! According to Mitú, Albert was inspired to start his makeup journey after dressing up as a clown for his cousin's birthday party, after the clown was a no-show.
Albert says he always thought clowns were funny and that he loved the way they painted their faces. This inspired him to start working with makeup, and the results are PERFECT.
https://www.instagram.com/p/BTsaQWnFtHH
This look is a LOOK, and we're both impressed and so confused as to how this gravity-defying aesthetic was achieved. Brujeria perhaps? Sadly, no. In an interview with Mitú, Albert clarifies, saying,
"I used a quill, una plumita, with the feather part stripped off so it is just the spine. A lot of people were asking me about what I used because they couldn't tell what it was.
We are HERE for this display of creativity and makeup magick! Thank you for inspiring us, Albert.