This guy built a whole bedroom for his dog, and it looks cozy as hell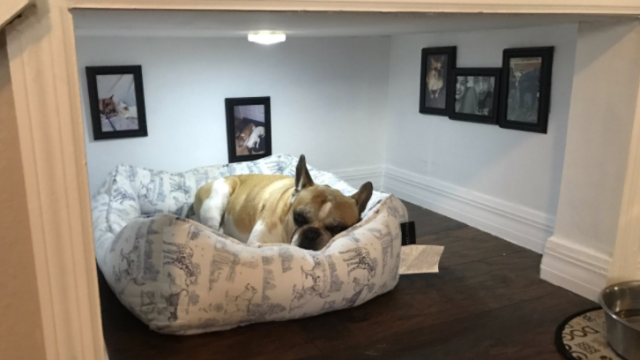 For many pet parents out there, our pets aren't just animals who live in our house — they're genuinely members of the family in every sense. One man believes in this sentiment so much so that he built an entire bedroom for his dog and TBH, it looks way cozier than our bedroom. Not fair!
A Twitter user by the name of Al tweeted out a series of photos showing his brother's process of renovating his under-the-stairs crawlspace into pup heaven. We're talking new drywall and baseboards, paint, an overhead light fixture, and even framed photos of the lucky dog's family members.
Al, can you get your brother to come over to our place?
As to be expected, Twitter had a heyday with Al's tweet. His photos were liked just under 350,000 times and collected over 120,000 retweets. But the craziest thing we gathered from Al's dog-nephew's bedroom tweet is that a ton of other people are taking the pet bedroom plunge.
For example, here's Crosby's closet-turned-comfy-cave.
And this indoor dog house is almost too cute to be real.
This man built his own under-the-stairs crawlspace for the sole purpose of turning into a doggy den. These dogs don't know how good they have it!
Upon doing some more research on this pet parent phenomenon, we found that YouTube star Jenna Marbles also picked up on the trend and tried her hand at pup room decor. Rather than your run-of-the-mill dog bedroom, Jenna Marbles chose to create a very chill living room.
https://www.youtube.com/watch?v=KEx1wcbBvdg?feature=oembed
And don't even get us started on the never-ending dog bedroom inspiration page on Pinterest. So many people are going gaga for dog rooms, but we completely understand why. They're amazing!
That settles it: We're starting a campaign to make dog bedrooms a staple in all houses. All dogs deserve to be as spoiled as Al's dog-nephew. It's just a fact.