Guy unknowingly adopted an adorable puppy that turned out to be a wolf, aka, THE DREAM
Have you ever seen a puppy at a shelter and thought, ZOMG this cutie is *so* coming home with me, only to later find out that the dog is actually a wolf? What's that? Absolutely NOT, you say. Well, let us tell you about this wonderful guy who decided to inquire about a "free dog" sign that was posted at a house. Long story short, he wound up leaving hand in paw with his new best friend that turned out to be a wolf, IRL.
According to Cosmopolitan, the Arizona man learned the truth about his pet wolf Neo's lineage after he exhibited stereotypical wolf behavior like avoiding human eye contact and shunning treats from the neighbors, which is definitely not in a dog's DNA.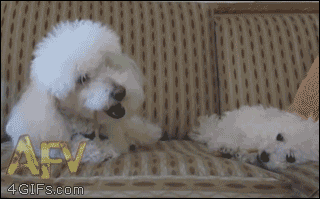 At one point, the neighbors were so over Neo's shenanigans that took him to the Humane Society of Southern Arizona who informed them that the dog was obviously a wolf. The shelter's former CEO Maureen O'Nell, told The Dodo, "I approached the couple and asked, 'You know that isn't a dog, right?'" to which they responded, "'We were wondering.'"
Due to state laws that forbade the original owner and the sanctuary from keeping Neo, he and O'Nell agreed to send the wolf to a sanctuary called Wolf Connection, where he lives now. Just look at how gorgeous he is:
Moral of the story: If it howls at the moon, it's probably not a dog.