Students protested gun violence today with a "lie-in" outside the White House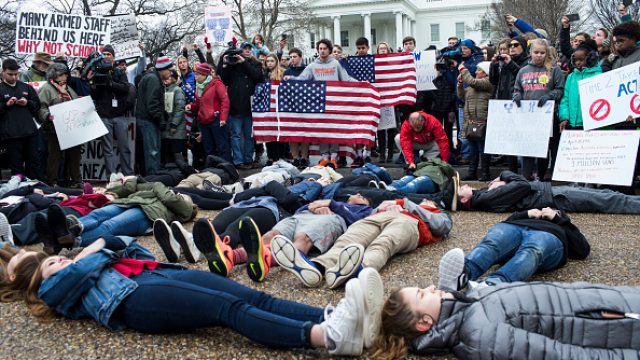 After a school shooting claimed the lives of 17 people and injured 23 more in Parkland, Florida, on February 14th, the students who lived through the massacre began speaking out to urge gun reform. And now, protests regarding gun violence have spread across the nation, with students in the Washington, D.C. area staging a "lie-in" outside the White House on February 19th.
The protest lasted for a silent three minutes, during which 17 members of the activist group Teens for Gun Reform lay down in front of the White House. Other students stood around them with signs bearing messages like "Protect Kids, Not Guns." The numbers in the lie-in were symbolic: In the Parkland shooting, 17 people were killed, and the shooter had reportedly purchased the AR-15 he used to kill those people in three minutes. The protest began at about 12:30 p.m. ET.
"By doing this, we will make a statement on the atrocities which have been committed due to the lack of gun control, and send a powerful message to our government that they must take action now," a message posted on the lie-in's Facebook page read.
Survivors of the Parkland shooting have led the call for gun reform following the tragedy. They have organized a march against gun violence called March for Our Lives, which will take place on March 24th in Washington, D.C. And at a protest staged by members of the Parkland community on February 17th, one student, Emma Gonzalez, said that lawmakers' inaction has led survivors to try to bring about change.
"We are up here standing together because if all our government and president can do is send thoughts and prayers, then it's time for victims to be the change that we need to see," Gonzalez said.
Another survivor, David Hogg, implored legislators to take action in a February 15th interview with a CNN reporter.
"Please, take action," Hogg said, looking directly into the camera. "Ideas are great...But what's more important is actual action."
In the wake of any tragedy, grieving for the victims is vital, but these students are right: taking action is the only way to stop gun violence. We applaud the Parkland survivors, the Teens for Gun Reform, and all protesters for working to make our country safer. We hope that our lawmakers will take these students' protests to heart and realize that we need change, and we need it now.