Did Gucci rip off a celebrity stylist's purse design?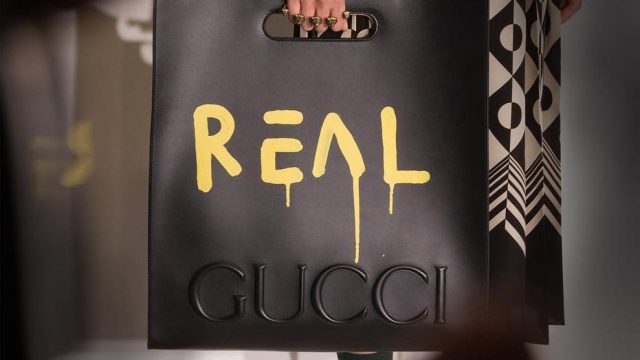 Gucci recently unveiled its Fall/Winter '16 collection in a flourish of bright colors and embroidered fabrics. However… there may be a problem. Because many believe that the fashion house copied a celebrity stylist's original purse design.
Sonique Saturday is an LA-based designer and stylist who owns a handbag line called Belladonna. This brand features counterfeit designer bags with statements such as "You Fake Like This Birkin" and "Fake Chanel" written on them. For the past four years, Saturday has been producing these pieces for celebs like Amber Rose and Christina Milian because, according to BuzzFeed, she wants "to let young people know that your substance does not lie in a fashion house's hands."
As for Gucci, they recently collaborated with graffiti artist Trevor Andrew (aka GucciGhost), who's been known to graffiti the Gucci logo on various objects. This helped him gain Gucci Creative Director Alesssandro Michele's attention and that's when Andrew was given the opportunity to join the brand's design team.
Here's a purse he designed for Gucci's latest collection:
After the above bag was revealed, many noticed that its design resembled Saturday's and her fans began to wonder if Gucci stole her idea. The stylist's friend, beauty vlogger ItsMyRayeRaye, was especially upset and had this to say:
Many agreed with the vlogger and voiced their concerns on Gucci's social media pages. Even so, amidst these accusations, Saturday came back with a great response:
She later told BuzzFeed, "I absolutely feel like I was a part of the inspiration, mood board, creative process to create that Gucci handbag. It is not about the paint or the graffiti; it is about the wording and juxtaposition."
Saturday also, once again, made sure to congratulate Trevor Andrew on his work with Gucci: "I do know that he has been making Gucci art for years as well. I know that, and I would never strip him of that."
While we can't confirm whether or not Gucci ripped off her design, we are sure of one thing: Sonique Saturday is talented, gracious, and deserves all the success in the world.