Gucci models carried fake human heads of themselves, and it will give you nightmares
London Fashion Week is in full swing with Europe's most exciting and iconic fashion houses giving us a look at their fall 2018 collections. We knew there'd be some wild or wacky styles on the catwalk, but we never expected Gucci to send its models down the runway with fake replicas of the models' own heads.
This fantastical show will most certainly go down in fashion history as one of the boldest, most whimsical shows ever. Aside from a few models carrying their own heads, others were seen holding life-like dragons, third eyes, and faun heads. It's as if Guillermo del Toro was all of a sudden given a runway show and rolled with it.
The clothing itself was stunning, as you would imagine from Gucci. The brand's head designer,  Alessandro Michele, seemed to be inspired by movies and folklore, creating a fully immersive experience that transported everyone in attendance. According to Vogue, he worked with a collective of film artists to create the replicas and special-effects accessories. We'll admit that the attention to detail is breathtaking.
This show makes us feel like we're in an IRL episode of Saturday Night Live and Stefon is telling us: "The hottest accessory at London fashion week is your own severed head."
Here's what the models looked like at the Gucci show.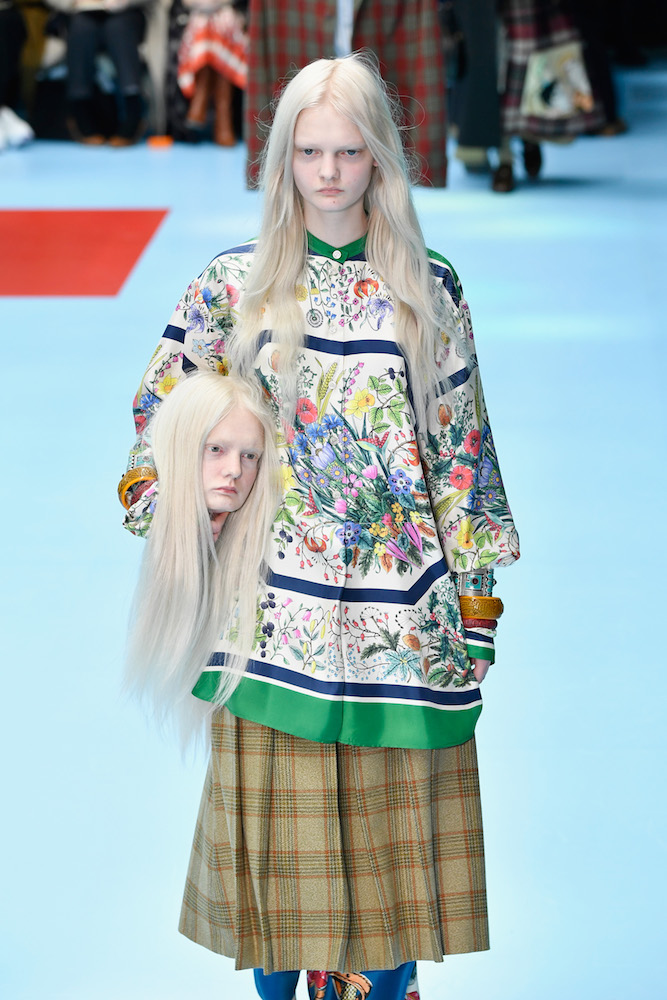 The resemblance is uncanny! And severed head or no, this plaid coat is absolutely stunning. Even the insane accessories didn't take away from how gorgeous the clothes are.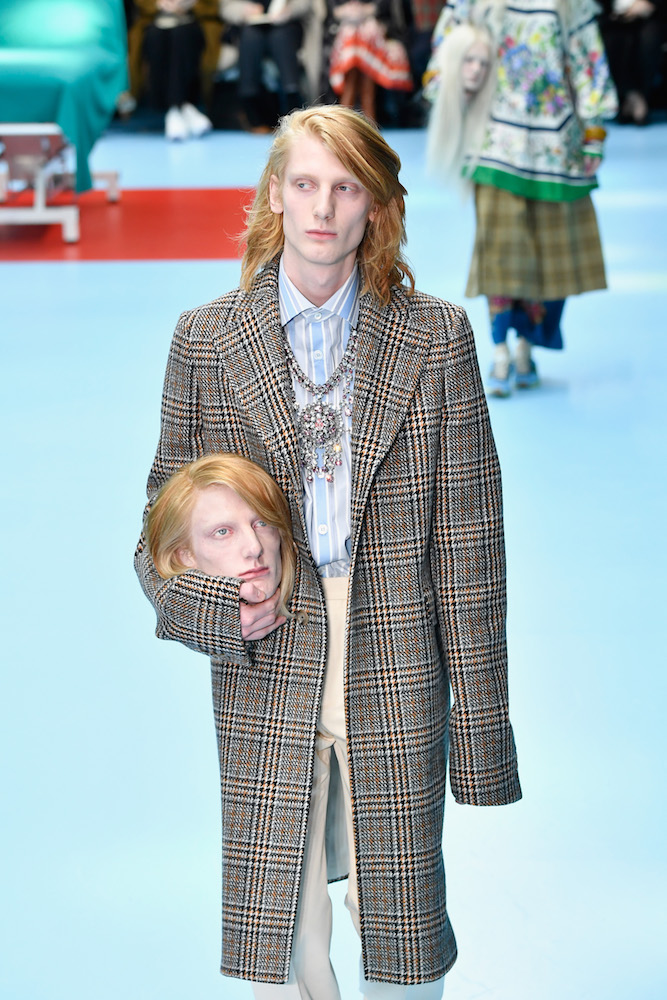 Even the most seasoned of Fashion Week attendees were floored. You can definitely chalk this one under "things we've never seen before."
We're kinda digging the juxtaposition of Gucci's extremely ethereal and elegant clothing paired with the macabre accessories. Do you?