Gucci is making a home decor line that's infused with a touch of magic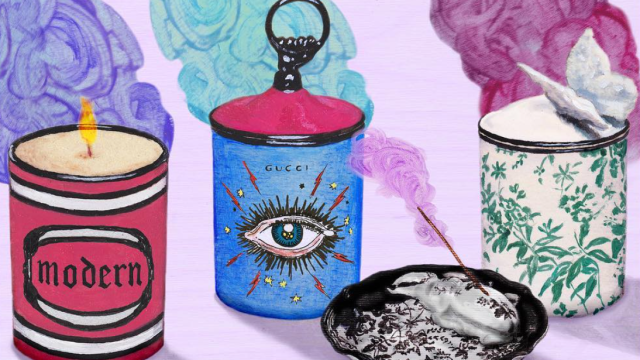 Ever since Alessandro Michele became creative director of Gucci in 2015, we've been obsessed with anything and everything the famed fashion house releases. We didn't know we needed pink ruffle peacoats or loafers with a UFO on them, but that's the power of Alessandro. The designer knows how to make grandma-chic look cool, enticing us with bold colors, texture, and just the right amount of kitsch.
Now, the Italian creative is bringing his Midas touch to home decor, with the release of Gucci's first homeware line. And, oh my god. We need every piece ASAP.
Have you been looking for a sweet little porcelain tray for your jewlery? Perhaps you simply want a fabulous pillow to spruce up your space with an air of je ne sais quoi. Well, this line is sure to have all of that and more.
There are throw pillows with Gucci's classic motifs, like their tiger, snake, and cat, all framed by blooms. There are plates in contrasting technicolor hues, adorned with a tiger's face. There are porcelain jars with mystical-looking eyes, inviting you to explore this fashion house's universe a little more.
Perhaps you want to be really lavish and sit in a throne sculpted by Alessandro himself, replete with bubblegum-pink seat and cherry-red frame. Either way, these pieces promise a little bit of elegance for your everyday life, with plenty of eccentricity, of course.
Although the line will have dedicated floorspace in Gucci boutiques, it will also be placed throughout the boutiques for an even more immersive designer experience.
You'll be able to purchase these pieces in September online, in select stores, and at specialty boutiques.
Though we don't know the prices just yet, we have a feeling they'll be splurge-worthy. So start saving, because you won't want to miss this magick.