Prepare to groove out, the official track listing for "Guardians of the Galaxy Vol. 2" is here
Anyone who's seen Guardians of the Galaxy knows that music is really important to the film. In the movie, Peter Quill's walkman connects him to the family he's left behind on Earth and the only cassette he has is a homemade mixtape, "Awesome Mix Vol. 1." It's full of music from the '60s and '70s, and it's GREAT. The soundtrack from GOTG went on to become one of the biggest albums of 2014.
Guardians of the Galaxy Vol. 2 is set to hit theaters on May 5th and the film's soundtrack is proving, once again, that music will play an important role in the film — come on, at the end of the first film, Quill actually finds his next mixtape, "Awesome Mix Vol. 2." It's safe to say Peter Quill's taste in music continues to be brilliant.
Check out the complete track listing: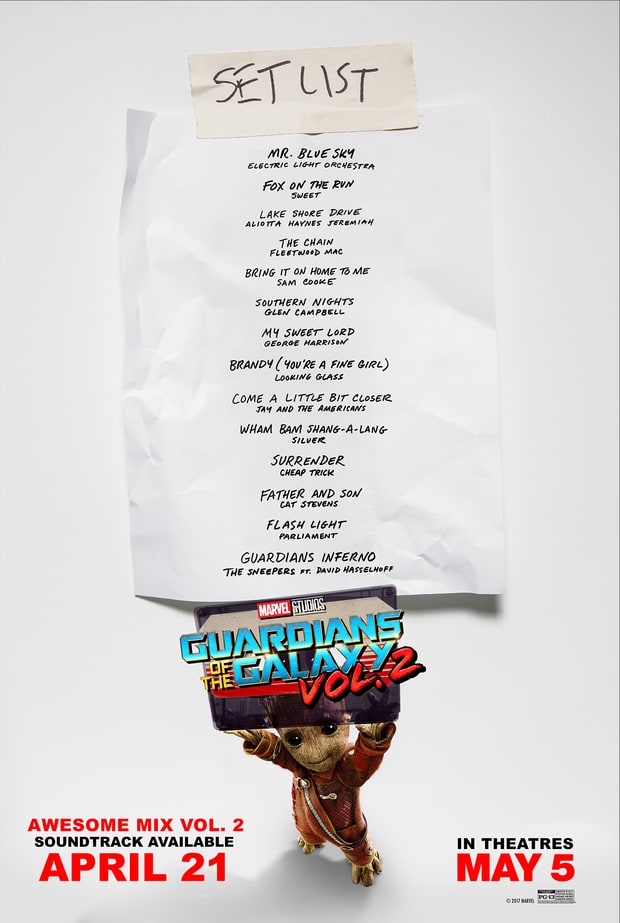 The list features numerous known songs from the '70s but none too popular, and many are lesser known songs from iconic groups and artists such as Cheap Trick, Fleetwood Mac, and Sam Cooke. In fact, many tracks on the album are the type of song that never quite gets old, just ask Gunn, who's had to listen to the soundtrack thousands of times.
"The weird thing is, I've never gotten sick of a Guardians song. Chris Pratt listened to the first album hundreds of times," He told Rolling Stone, "He said the only song he got sick of was 'The Piña Colada Song.'"
Not going to lie, we're really excited to give the album a listen when it comes out on April 21st.