"Guardians of the Galaxy" director describes casting Chris Pratt as a "magical moment" and we're like yeah, same
One of the best things to come out of the Marvel Cinematic Universe is Chris Pratt. 
You might have known the funny man prior to his time as a Guardian of the Galaxy as Andy Dwyer on Parks and Rec (and let's be real, we fell in love with him on Parks and Rec, as many other humans have). But it wasn't until his turn as a literal star lord that we fell for him HARD — and now that he's here, we never want to let him go.
If you think watching him up on the big screen is a treat, imagine being the person to actually realize that Pratt is destined for great things. That realization falls on Guardian's director, James Gunn.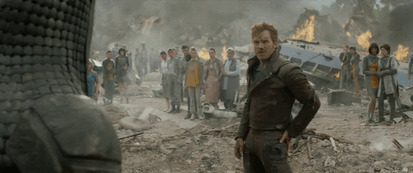 Earlier today Gunn invited Vin Diesel (the voice of Groot) to see some scenes from the movie, and afterwards they took to Facebook Live to discuss their ~feelings~. Diesel is visibly ~moved~ by the footage, and can't help but get a little misty-eyed talking about it.
And then the two start to talk about Pratt, and that's when ALL the emotions come out.
"I don't know how it all happened, or how the universe [made it happen], and obviously you made that call early on," Diesel starts. "I saw it in the first movie, and I'm seeing it now. Chris Pratt was born to play Peter Quill."
"We screen tested probably 30 actors, as we were trying to find Peter Quill, and I didn't even want to see Chris at first," Gunn jumps in. "I thought he was overweight at the time, and he seemed like a comedy guy, and he didn't think he was the right person for the role. But he came in, and he was doing his audition, and 20 seconds into his audition I'm like, 'That's the guy.'"
"It's like that magical moment, it's like when you find the woman you fall in love with and you're like 'That's the one.' That's what it was like finding Chris as Peter Quill."
AND WE'RE SO GLAD YOU FOUND HIM. Hold on, we're a little misty-eyed now, too. Check out the full video below, and maybe have some tissues nearby just in case.