This grown man on a water slide is officially Twitter famous, and you just have to see him in action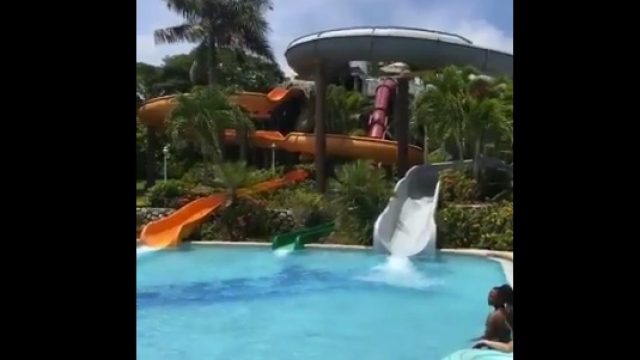 It's human nature to try and rationalize things we can't explain, but we have no explanation for this viral tweet depicting a man  *literally* sliding across water. We were going about our business on Twitter when user @morganevick posted a video that has had us completely mesmerized.
The Twitter video shows a teen going down a slide at a Jamaican water park and gliding across the water, casually standing up as he reaches the edge of the pool. Naturally, other park attendees stood back in awe as the teen worked his magic.
We guarantee you'll have to watch it at least a dozen times:
The teen may be the most casual wizard on the planet.
Evick posted captioned the video,"Slidin' (literally) in the DM's like" which may be the most relatable caption, ever. Since the video was tweeted a few days ago, it's garnered more than 80,000 retweets. As always, Twitter went wild.
https://twitter.com/udfredirect/status/871783194198147077
https://twitter.com/udfredirect/status/871568876152213504
https://twitter.com/udfredirect/status/871793501922631684
https://twitter.com/udfredirect/status/871798574627131393
Same, though.
Since the tweet took off, Evick posted an update, telling Twitter that she needs to find the teen on the video so she can let him know he's now Twitter famous. She added, "Sincerely sorry to anyone I know that has tagged me in a tweet and I haven't responded, my notifications are a little outta control ATM."
Our lives have been completely changed by this video but we definitely think this is a stunt best left to the professionals.