The official Baby Groot character poster is here to make your day 2000% better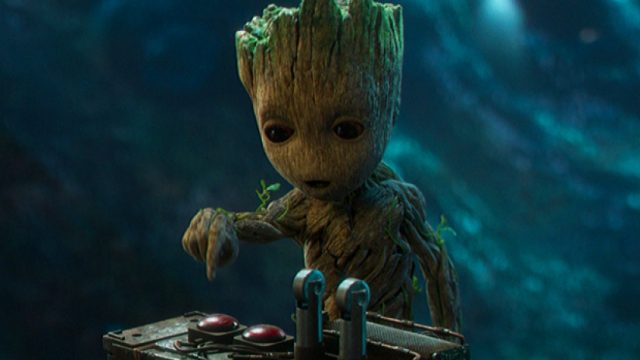 If you're struggling to make it through everybody's least favorite day of the week — it feels like Friday, but it's not Friday and we're angry about it — we've got a quick fix to keep you going. The official poster of Baby Groot for Guardians of the Galaxy 2 is here and it's EXACTLY as adorable as you'd expect it to be.
Vin Diesel shared the photo on his Facebook page which honestly makes it even cuter, because we love thinking about big tough Vin Diesel loving this tiny, adorable tree he voices as much as we do.
Behold, the Baby Groot character poster that we need a copy of for our living room, our kitchen, our bathroom, our bedroom, our hallway, and, like, our office at work too. Maybe the work kitchen. It just makes us SO HAPPY and we want to see it everywhere.
Vin Diesel posted the image and said:
"So proud to be a part of this franchise... so proud to play one of the most interesting characters the screen has ever seen. Blessed. P.s. My brother James wanted me to let you all know that you can purchase tickets tomorrow for this film's may release. Exciting!"
It's always wonderful to hear that actors we admire enjoy being part of franchises that we love. And plus, on top of finding out that Vin Diesel thinks Groot is "one of the most interesting characters the screen has ever seen" (which, same, bud), we got this adorable poster. Did we mention we're happy about this poster? Because man oh man, are we excited about this poster. The wait till May 5th continues…