Breaking news: Disneyland is now selling Groot *bread*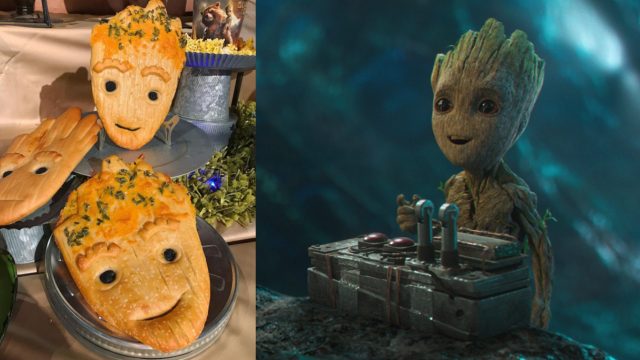 Step aside Dole Whips, churros, corn dogs, and the Grey Stuff (even though it's actually delicious). There's a new go-to food in town, and right now, it is taking Disneyland by storm. You can meet Groot, you can drink out of Groot, and now you can *eat* Groot.
But no, not like THAT. Disneyland has just rolled out a new, ah-mazing treat: Groot bread.
Your eyes to not deceive you. That really is a loaf of bread in the shape of Groot's head, and seriously, what will Disneyland think of next?
https://www.instagram.com/p/BUuSWx1gEME
To celebrate the grand opening of Guardians of the Galaxy: Mission — Breakout!, Disney's California Adventure appears to have spared no expense when it comes to celebrating the Guardians, and everyone's favorite walking, semi-talking tree. Over the weekend, pictures of Groot bread started showing up on social media, and let's be honest for a second, we're obsessed. 
California Adventure actually has their own bread bakery in the park, Boudin Bakery, located in the Pacific Wharf area of the park. The Bakery is known for their delicious bread creations and now all we want to talk about are these loaves of Groot bread. There are two different bread varieties you can snag: Regular sourdough and jalapeno cheddar. The eyes are olives, FYI. This is probably the best thing to happen since sliced bread.
This bread is only available in Disneyland, and you've got your choice of two locations. You can snag regular sourdough bread over at Fairfax market; the jalapeño cheese version is located over at Cosmic Canteen.
https://www.instagram.com/p/BUm5Md9D1ih
This bread won't be around forever, as it was rolled out for California Adventure's Summer of Heroes. If you want to have your Groot and eat it too better make your way over to Disneyland ASAP.