The first trailer for "The Grinch" is here, and Benedict Cumberbatch is a mean one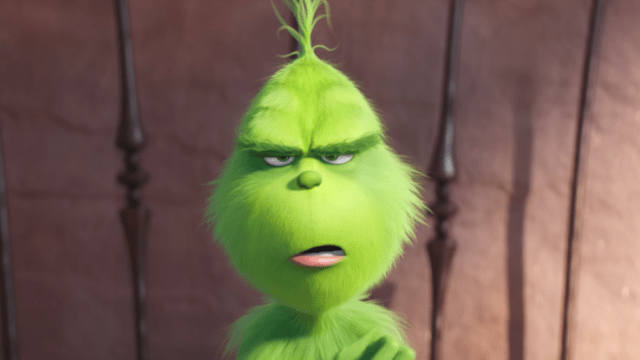 He's a mean one, Mr. Grinch! He really is a heel, as cuddly as a cactus, as charming as an eel — and now, he's back in a new animated film. And whether you're a fan of the 1966 TV movie or the 2000 Jim Carey starrer (or both!), there's plenty of reason to be excited. Like, IDK, how this year's The Grinch is from the company behind Despicable Me — and how BENEDICT CUMBERBATCH is our new title grouch.
The latest adaption of the Dr. Seuss classic looks pretty darn cute — think of it as being in the same style as The Lorax or Horton Hears a Who! How do we know it's so darn cute? Well, the first Grinch trailer has been released. And in it, the Grinch is grouchy and mean and cranky, but it's clear from the start that he has the potential for a change of heart, even if his is already three sizes too small.
Oh, and of course Cumberbatch's Grinch wouldn't be authentic without his dog-pal Max, who makes him coffee in the morning as all good animated dogs should.
You probably know the tale, but as a refresher, here's what else you can expect: "The Grinch tells the story of a cynical grump who goes on a mission to steal Christmas, only to have his heart changed by a young girl's generous holiday spirit. Funny, heartwarming and visually stunning, it's a universal story about the spirit of Christmas and the indomitable power of optimism."
Like, we know it's only March but we're F-E-E-L-I-N-G the holiday spirit already.
https://www.youtube.com/watch?v=vjnqABgxfO0?feature=oembed
It's clear from the trailer that Cumberbatch perfectly personifies the anger and bitterness in the Grinch, while also hinting that he might not be totally cold-hearted. The trailer is short, but definitely does the job of getting us excited for what's to come. And that's not even the best part. Oh no, the bet part is when the Grinch tells his trusty pal Max, "Today we will do mean things, and we will do them in style."
We can't wait for all the troublemaking to come when The Grinch hits theaters on November 9th, 2018!