Grimes confirms she's pregnant, and "didn't really understand what she was getting into"
Updated: February 3rd, 2020
After posting several mysterious posts on Instagram in January, Grimes has officially confirmed that she's expecting. Fans weren't sure at first if the alt-pop singer was simply preparing a new musical project or if she had something else in the works. So, Grimes took to Instagram on February 1st to clear the air and ask a few age-old questions.
"Wow I'm starting to feel bad haha… how do y'all cope with working and having a baby??" she asked via her caption.
"This whole thing has been a bit of an ordeal," she continued, after apologizing for not promoting her music as much as she has in the past. She explained that she had "some complications early on" but that her second trimester was better. Grimes then asked her followers about their experiences with pregnancy.
"I feel like I was woefully ill prepared cuz I dunno if pregnancy is as visible or discussed as it should be. I just didn't rly understand what I was getting into," she wrote. "It's been good too, but it makes working a lot harder. Good at writing and having lots of wild ideas tho, but anything physical is hard."
She added that she's "way more emo and less capable of bravery in the face of haters online."
"Curious what other ppls experience was like," she concluded. "I didn't even google it, I was just like sure y not hahaha smh."
Grimes has yet to comment on Tesla CEO Elon Musk's involvement in this pregnancy.
If you have kind words to share or pregnancy advice to pass on, show Grimes some love in the comments section of her Instagram post. It definitely helps to remind someone that they are certainly not alone in their experience.
Original Post: January 9th, 2020
Alt-pop singer Grimes is working on a new project—motherhood. The "Oblivion" singer posted to Instagram, appearing to announce her pregnancy. And the way she describes the experience is both so unique and so relatable.
In a January 8th post captioned, "Censored for insta haha – almost got away w it," Grimes uploaded a topless photo of herself with a superimposed fetus edited onto her stomach area, which looks like it could be a "baby bump." She had posted an uncensored version of the pic first, but she changed it in order to comply with the platform's guidelines.
Though she didn't outwardly confirm her pregnancy in the caption, which led many to believe this was simply album artwork, Grimes did go into more detail in the comments section. Replying to a fan who complimented her racy pic, Grimes wrote, "I thought about censoring [my nipples] for a hot minute haha (this may get taken down anyway) but the photo is much less feral without the nipples."
Grimes continued, "Plus being knocked up is a very feral & war-like state of being. Might as well be what it is."
We've never heard anyone call pregnancy a "war-like state of being," but honestly, yeah. She has a point.
"Plus most of my friends told me not to post them so then I was afflicted w reverse psychology," she continued via her comment, regarding her uncensored photos. "Interrogated my shame on it and decided it was sum weird internalized self hatred to feel uncomfortable abt my body. Hope ur having a nice day!"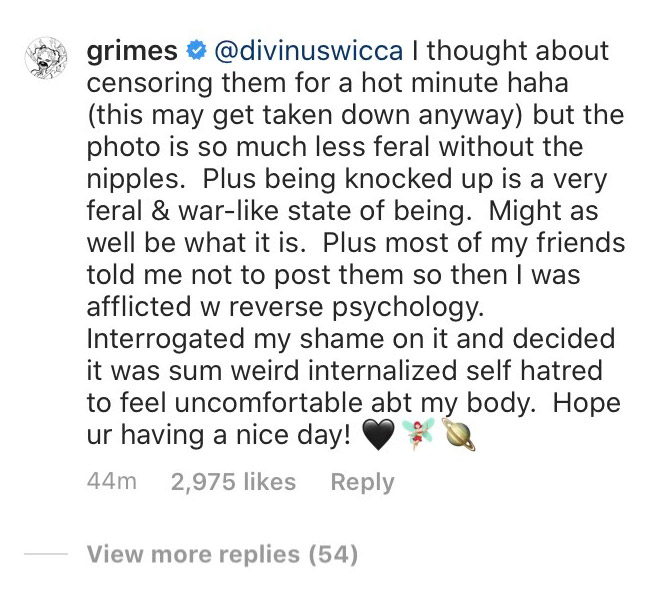 If Grimes is pregnant, many believe Tesla founder Elon Musk may be the baby's father. The pair have been linked since 2018, when they supposedly met via Twitter. But again, we haven't gotten much info from either party regarding the potential pregnancy.
Even so, many of Grimes' fans are expressing their joy for the singer.
"Congrats queen! ur child will save the world," one fan wrote. Princess Nokia commented, "Congrats beautiful alien family." Janelle Monáe shared a crying-face emoji and the party-popper emoji.
However, this entire thing may just be part of a new album. Perhaps Grimes is exploring the idea of motherhood in her latest music. We really don't know. And until we get some actual confirmation, all we can do is hope Grimes wins whatever war she's currently fighting.