Our fave alt-pop queen Grimes just released SEVEN new music videos that you NEED to watch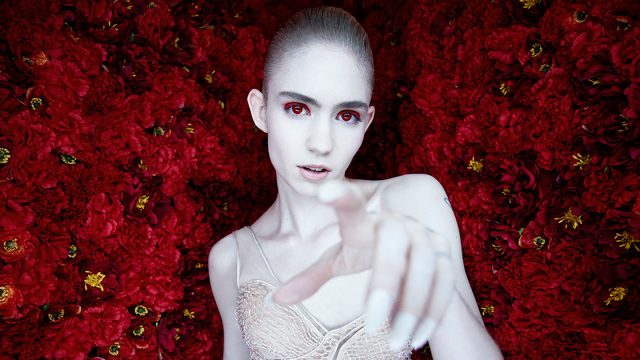 We totally love Grimes. The Canadian-born singer totally blew us away with her 2015 album Art Angels, which was our fave album from last year, and we obsessed over the singer's contribution to the Suicide Squad soundtrack. We love the fact that she creates all the music herself, and she even designed her last album's artwork, too.
In fact, the singer is such a creative siren that she just uploaded SEVEN (!) music videos all at once.
Released individually and as one single 38 minute mega-collection, the videos were filmed while the singer, who's real name is Claire Boucher, was on tour in Europe. Titled "AC!D Reign Chronicles" after the tour, the collection is pretty creative, especially considering they were all shot on phone!
"This summer I brought my brother Mac and my best friend HANA on tour and we shot a bunch of music videos," Grimes wrote on Twitter announcing the video. "These 7 videos were shot over a 2 week period throughout Europe during The AC!D REIGN tour. They are guerrilla style vids, a la "Realiti." so there was no crew, makeup, cameras, lights. Just us and a phone, so maybe don't expect anything too fancy. "That said, we're really proud of what we've made."
The mini-movie features videos for tracks from Art Angels, including "World Princess Pt. 2," "Butterfly," "Scream," and "Belly of the Beat."
Similarly, Grimes' friend and collaborator, HANA (who is awesome, btw), filmed three videos, too. Watch the mini movie below.
https://www.youtube.com/watch?v=DQLvqvLvUIY?feature=oembed
Explaining how the filming of the video came about, Grimes said that originally they only set out to record an accompaniment for "World Princess Pt. 2."
"We felt done after a couple of days," she explained, "so we kept shooting in between shows/ on days off and started shooting vids for Hana, too. Aristophanes also played some shows with us, so we were able to shoot SCREAM. Linda and Alyson, who dance in the show, also appear in the videos."
https://www.instagram.com/p/BLMUKIUD1c_
We're SO impressed with the artistry and creativity behind these videos. Despite not having a massive crew or any budget, we think that they look great and are totally visually arresting. We love that they feature locations like airport runaways, bridges in cities, and even ancient ruins. We can't even imagine the planning that must have gone into making this!
https://www.instagram.com/p/BLMTmL8jmjE